The following two tabs change content below.

Yura
I am Yura Matskevich, traveled around 74 countries, travel is my passion, on pages 43places.com I share useful information.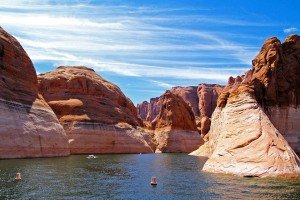 The hot State of Arizona is one of the greatest places to visit with its severe land of canyons and saline soils, heathlands and rocks which can frighten off one person with its inaccessibilit and to attract the  other one like a magnet. The trip here doesn't remind the walk along cozy Prague small streets or walks on the Roman squares at all; it is quiet different experience.
However, if you have always wanted to look at the United States of America from the other side then you should accept this challenge! If you are going to go to Arizona then this list of places to visit will be useful for you. There is a great number of places that are worth visiting.


Contents
Place number 1: Grand canyon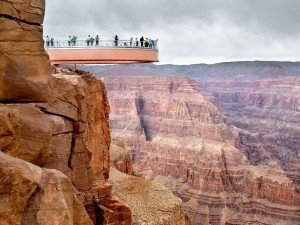 Grand Canyon is one of the most known sights of America, a lot of guests of Arizona come here. The well-known wonder of the world amazes everyone not only by the huge sizes, but also by a set of details which the nature had lovingly decorated it with. The patterns on canyon walls were created by the wind, sand and water don't concede to the pictures of the best artists. The abundance of observation decks (special attention must be paid to the Heavenly track, with a glass floor) allows to consider the gorge from different points. It is possible to go down on a mule deep into a canyon to look at it closer, or even to go down by your own, if you choose this option you should be ready for the real physical activity.
There are some tips for those who plan to have some adventure:
Find out how to reach the North and South Rims in a more convenient way
Explore the Grand Canyon on a bike, on foot, by car or on a friendly mule.
Arrange an airplane tour to see the canyon from high above
If you like hiking then Grand Canyon will be the best place for this activity
Grand Canyon is a home to several tribes.Navajo is one of them. They have their own legend about how the Grand Canyon appeared.  This legend claims that there was a great flood which results in nearly drowning of their ancestors, who saved themselves by turning into fish. After that the waters rushed away and made the land safe again. The ancestors returned their human form, and saw the leftover outlet, which is the current Grand Canyon. The other tribe Hualapai has another legend. According to this one, a great flood took place when Pack-i-tha-a-wi who was their hero set out holding a very large knife and club which h was using to dig a channel in the ground, and then to cut the final passage into the Sea of the Sunset to make all the water run away. The ground was baked by the hot sun that influenced how it looks nowadays. Believe it or not but these people think that it was true.
 Interesting: And, of course, you should have a look at Havasu's falls which is considered to be one of the most beautiful sights in the United States of America.
Place number 2: Saguaro National park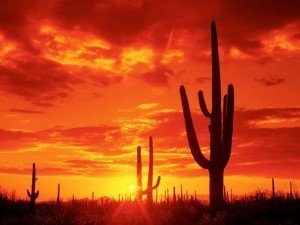 How do you imagine ordinary parks? National parks often are associated with a variety of paints and magnificent green trees and flowers, benches and recreational area but Saguaro is completely different, after all it is located in Arizona. This really huge national park settles down in the desert, and cactuses are the main plants here. There are so many plants of this kind but all of them are of different types, with or without flowers, various shapes and colors. You won't meet anything similar anywhere else; long walk among them will help you to feel the hero of popular westerns.
Some facts about saguaro:
If you want to know if a saguaro wants to drink, its vertical pleats will tell you about this.
It can grow only below elevations of 3,500 feet.
The survival of the saguaro depends on the conserving water loss.
Interesting: The word saguaro which is pronounced like "sah-wah'-ro" came from a Spanish Papago that refers only to this plant which scientific name is Carnegiea gigantean that was given as a tribute to the scientist Andrew Carnegie.
Place number 3: Meteoric crater berringer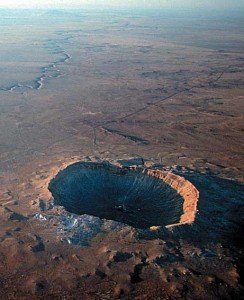 One of the meteoric craters, the most well-known in the world, especially impressively looks from height of a bird's flight as it is the only possible way to estimate its really huge sizes to the full extent. Walking to it on foot is also good, especially taking into account that on the edge of a crater there is a museum. Berringer's crater was called by the last name of the person who was the first to prove its origin. It keeps interest of both travelers and scientists who are interested in geomagnetic anomalies taking place in this crater. Some facts for them who plan to visit this place:
Barringer Crater is the famous best preserved impact crater on Earth.
It takes its name after Daniel Barringer who was the 1st to claim that it was a result of a meteorite.
The crater is privately owned by the Barringers. It is known as Meteor Crater orArizona Crater.
It's about 1,200 meters in diameter and 170 meters deep
Interesting: It is hard to believe but the Barringer Crater appeared approximately 40,000 years ago as an impact of an iron meteorite
Place number 4: Montezuma's Castle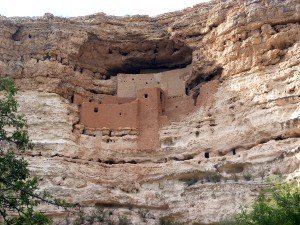 This five-floor dwelling in the rock has nothing to do with the leader of Aztecs. Frankly speaking, it has never been a castle even –Indians of sinagu lived there and then left this place because of wars with other tribe and difficult living conditions. Besides walking on stone houses full of spirit of the past, it is worth finding time for visiting its museum that is located nearby: there is the extensive collection of tools that were used for such buildings.
Some facts to know:
Montezuma Castle is situated at the top of the Valley Verde rocks, 8 km to the northeast from Camp Verde
Historians think that it refers to AD 1100
Until the XV century Sinagua lived in the hills nearby being engaged in agriculture.
The stone building with five storeys consists of 20 rooms, where 50 people once lived there.
Another part of the rocks contained ruins of a larger property, which hadn't survived.
In 1906, the ancient castle and its surroundings have been declared a national monument USA.
Interesting: Today more than 350,000 tourists visit the ancient castle annually. The tour includes a visit to Sinagua museum, which presents the tools that were used for the construction of such housing in times of Sinagua. In the valley there is also a souvenir shop that you can visit in order to buy something for your friends or family or for yourself to take a piece of this great place with you.
Place number 5: Valley of monuments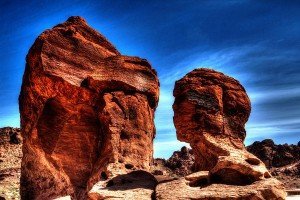 Valley of monuments is one more natural monument which landscape is familiar to everyone thanks to the image which is spread around at cinema. But to see it in a shot is one case and to behold with your own eyes is a quite another matter. Have you ever heard this legend?
Navajo Legend of Monument Valley
Navajo believed that the people of Dinetah passed through three worlds before arriving in the Fourth one. First World was dark because there was no sunlight or light from moon and stars. The inhabitants of the First World had no form and that's why they were called Mist People.
First Man and First Woman were created in this mythological world. Their intention was to prepare everything for the Navajo. But the Beings started quarreling and casting evil spells upon one another. First Man, First Woman and the Mist People left that place and moved up into the Second World where they found other people and animals.
The Third World had two rivers and was known as the Yellow World. A female ran north and south. The male – east and west. First Woman was not satisfied with the Third World that's why she asked Coyote to steal Water Monster's baby because she knew it would anger Water Monster. Her plan worked and as a result there was a great flood. Everybody had to move to the Fourth World.
The deities of the Fourth World showed people how to live peacefully and First Man and First Woman taught them to build huts of logs and earth and to bless them with cornmeal.
Once, First Man and First Woman found a little girl. Time passed and a baby became a nice young woman representing nature. All the Holy People loved her very much.
Changing Woman and the Sun gave birth to The Twins. The Fourth World was full of monsters and she was afraid that they could harm her children. That's why she found the safe place underground in the hogan. Even their dad knew nothing about this.
Suddenly, the Twins discovered a deep hole where they got acquainted with the Spider Woman who liked them and promised to protect from the Monsters. The Twins came back home to their mom to tell about their new superpower given them by Spider Woman. And they cast a spell on the beasts and turned them to stone.
Now you can see those monsters that stand frozen in Monument Valley. And, that's the way how this incredible valley and its people lived there.
Believe it or not but when you read this legend and come there you will feel as you are the hero of that period and all these worlds will appear in front of you like real.
Interesting: Even from far away surprising landscapes remind phantasmagoric castles and palaces; this impression erases a bit when you approach it. It would be great to climb one of the rocks and to examine the Valley of monuments from height!
Place number 6: Petrified Forest National Park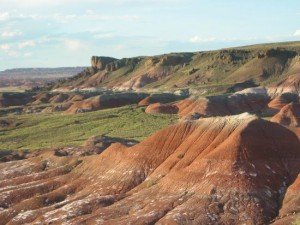 Here is one more unusual national park of Arizona representing a huge center of fossilized trees with at least nine types of them. Poured on the sun these certificates of long ago left geological eras are similar to vegetation of other planet. The feeling only amplifies thanks to the colorful desert which combines red, yellow, orange, gray and brown colors, creating phantasmagoric landscapes which are covered sometimes by the violet fog receiving the color thanks to desert dust. Behind an admiring show it is important not to forget to look at petroglyphs – ancient petroglyphic letters.
Some facts:
The petrified wood weighs more than the original log (about 150-200 pounds per cubic foot)
About 225 million years ago this area was a low land with covered by a dense forest.
Interesting: Petrified Forest National Park can be proud of one of the world's greatest collections of petrified wood. Here you can see even what is left from the ancient trees of the Triassic Period which was over 200 million years old!
Place number 7: Phoenix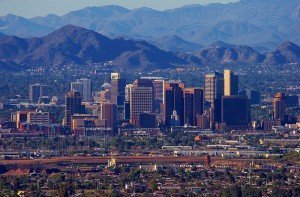 You should find time to visit Phoenix with its desert character. If you spend several days in Greater Phoenix you'll understand what is meant by this. It is the fifth largest city of the USA that still has cowboys and red-rock buttes and the kind of cactus a lot of people see only in cartoons.
It is the home for the Sonoran Desert and its history is a testament to the spirit of ranchers, miners and visionaries.
For nearly one and a half centuries of the existence Phoenix turned from the small settlement into one of the largest cities of the country with the population more than one and a half million people. In the sixties before the last century near modern Phoenix there was a small colony which received the name Swilling Mill in honor of one of the founders, Jack Svilling. During some time among inhabitants there were disputes on the name for the settlement while at last it was decided to stop on Phoenix. The hot sun of Arizona is capable to cause the mass of inconveniences to crops and those who cultivates them; for Phoenix located in the territory of Sonor's desert (there are more than three hundred sunny days in a year), this question is more than actual.
On February 25, 1881 Phoenix received the status of the city; by then its population made about two and a half thousand people.
There are a great variety of interesting places to visit in Phoenix:
Musical Instrument Museum
Desert Botanical Garden
Camelback Mountain
Children's Museum of Phoenix
Arizona Science Center
You are lack of time then don't miss the opportunity to visit the following places in Phoenix:
City Symphony Hall waits for fans of classical music, the opera and ballet; actors from the Broadway are also frequent guests on its scene.
The Phoenix Art Museum offers the visitors a huge collection of works of art of various eras and the countries: Europe, America, Latin America, exhibits of the East countries.
Phoenix Zoo. It will be interesting to adults and children to visit this zoo in which there are more than one thousand various animals, including about two hundred such which are on the verge of extinction.
The exposition of Pueblo Grande Museum tells about those tribes that inhabited these lands long before the white settlers occupied them.
Interesting: In 1912 Arizona received the status of the 48th staff of the country; respectively, Phoenix is the capital of the state now. Annually the city is visited by about ten million tourists; besides good weather the city has much to offer its guests.
Place number 8: Stone waves of Arizona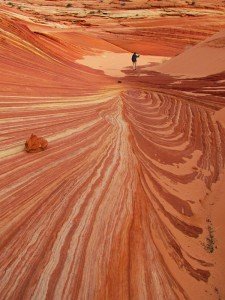 If you visit this place you will understand how surprising and beautiful our planet can be! How many unusual places and unprecedented miracles Earth conceals somewhere in the most intimate corners! On the border of states Arizona and Utah in the USA there is an impressive geological formation under the name "Wave". When you find yourself in this place it seems that you have got to the country of curve mirrors, or visited some alien civilization — it looks like the earth is blurring in front of you.
Some interesting facts:
The stiffened wave of Arizona is located 30-40 miles from the city Page. It is possible to reach it on foot through sand and mountains. But also not everyone manages to do it. Because of uniqueness and fragility of a landscape of this place only 20 people per day can get special admission to get there. Tourists from all over the world come here because this is really an incredible place to visit. Hurry to get your admission to go sightseeing because there is a real lottery to go on this excursion.
It is interesting that the way to the Wave is stoned with almost ideal ground, but even a small congestion of sand is enough for life to boil here. Coming nearer to a treasured place, it is possible to admire unearthly landscapes of the mountains twirled in a spiral which whatever one may do don't fit into habitual Arizonian landscapes at all. Some steps more… and here they are — tremendous waves of the Country of curve mirrors!
"What a nature miracle is it?" — You will ask with astonishment. You are looking at these surprising stone waves and you can't believe that really such majestic miracles could be created by the nature!
In fact, there are four rocks with the general basis and unusual structure of a surface which forms these unique waves. Strong water flows during rainy seasons had skillfully ground soft sandstone of this canyon for thousands of years, and such sandy sea turned out to appear here.
In some places unclear patterns can be visible on the walls of rocks.
Interesting: Surprisingly, but till 1995 anybody didn't know about this place. The world found out about the Wave from article of one German traveler who managed to visit and photograph local landscapes here. Since then the mass pilgrimage of the tourists has begun trying to get to these magic places at least for a moment.
Of course, this modest list – only a small share of all of that surprising, unusual and beautiful special, strict and slightly disturbing beauty of places with which Arizona is so rich. There are so many places to visit here that one time will not be enough even only for its national parks, and all of them are interesting in their own way, from botanical garden in Papago park near Phoenix, the main town of Arizona, to Red rocks. Your trip promises to be very fascinating and unforgettable!
Back
Video