The following two tabs change content below.

Yura
I am Yura Matskevich, traveled around 74 countries, travel is my passion, on pages 43places.com I share useful information.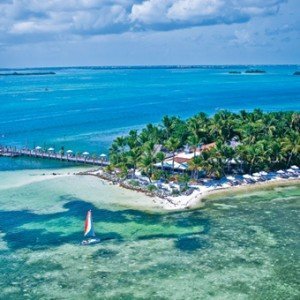 Florida is really a great place to visit. Many visitors are attracted by its beaches and the coast, although it is not the only reason to come here. In the north you can see the steep hills and dense forests that create beautiful scenery. Many tourists are impressed with the wild nature. It is located on a peninsula which has the same name. Most of the island can boast with small lakes, marshes and hills. Such places are usually popular with people who prefer eco-tourism. However, fans of all sorts of excursions will also find a great number of surprises. The State of Florida is one of the most cultural states of America. Calendar of state holidays is so packed with all sorts of activities that there is the question that comes to your mind: when do people work?
Every year, Florida welcomes more than 40 million guests. Many of them associate it with the sea, sun, sand and the Mickey Mouse. The sunny state has a reputation of the best resort for the whole family. Everyone will be able to find something for his soul here.


Contents
Place number 1: Kennedy Space Center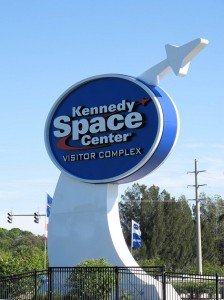 Even if you haven't been to the United States of America you must have heard about the well-known Kennedy Space Center which is situated at Cape Canaveral. Currently, the space center is available to the public, its guests can watch an interesting film in the cinema or have a walk through an art gallery.
There are a great number of exciting things to explore here:
Visitors can see the real Space Shuttle Atlantis and witness an actual rocket launch in person.
Astronaut Encounter will give you the chance to meet a veteran astronaut in reality.
The Saturn V Center features an actual Saturn V moon rocket.
You can enjoy 3D IMAX® space films
Interesting: Kennedy Space Center is one of Florida's most popular destinations. Its Visitor Complex tells the epic story of the U.S. space program which takes the beginning from the first day through the present time. Here you will be taken on both entertaining and educational and journey.
Place number 2: Everglades National Park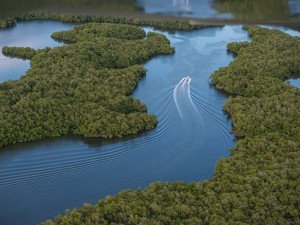 Everglades National Park is a natural landmark of world importance which was founded in 1947. Nowadays its territory is inhabited by thousands of species of animals, reptiles and birds, some of which are rather rare.
There are a lot of adventures for the visitors of Everglades:
Take a walk on the Anhinga Trail to enjoy a wild nature with its turtles, herons and alligators!
Climb atop Shark Valley's with the 65-foot observation tower
Glide over Florida Bay using tour boat or the kayak for a chance to glimpse a crocodile or a dolphin.
Watch as the sun sets over Flamingo
Explore the pinelands by bike and paddle amongst the mangroves on Nine-Mile Pond,
Tour the historic Nike Hercules missile base.
Interesting: Everglades National Park covers 1.5 mln acres that gives its visitors the possibility to enjoy a great number of various activities such as hiking, canoeing, biking, camping, ranger led programs, tram tours and boat tours.
Place number 3: Flagler Museum in Palm Beach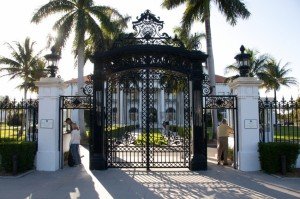 Henry Morrison Flagler was born on January 2, 1830 in the town of Hopewell, New York in the family of a Presbyterian priest. Flagler was the owner of the railway company and in 1886 he joined several railway lines on the east coast of Florida in one, along which he built luxury hotels. Previously, he bought the land in many coastal areas – after the construction of the railway and the creation of tourist infrastructure there, they rose in price significantly, and Flagler was able to sell them at a large profit.
Flagler made his contribution into tourism infrastructure on the east coast of Florida. In addition, he financed dredging in the port of Miami and organized a steamship with Key West.
Flagler is considered to be the founder of the Palm Beach city. It was this place where he decided to build his winter residence. Whitehall was built as a gift for his third wife, Mary Kenan Flagler Lilien. The building with 75 residential apartments and outbuildings was erected in 1900-1901 in the Boz Art by the architects from the firm Carr?re and Hastings who have already worked on projects for Flagler.
You will be impressed with the style of the building which is characterized by a strict symmetry, the hierarchy of precious and utilitarian spaces, eclectic use of elements of French and Italian architectural history, a rich decor with sculpture, bas-reliefs, figural sculptures, etc. In contrast to the pure Renaissance and Baroque, Beaux Arts has freely varied elements in both directions.
You can have a walk through the building which consists of:
Whitehall
public utility rooms which surround the courtyard.
library,
music room,
billiard room,
dining room,
lounge and
a large ballroom.
a fountain.
a bedroom and a guest room.
G.Flagler died in 1913 and in the 1920's – 1950's building, after major renovation, was used as an expensive hotel.
In the palace, visitors can see the decorated rooms and furniture of the era of the Gilded Age in the United States, the times of the French kings Louis XIV and Louis XV, the Italian Renaissance, early cultural life of the American Far West, etc. Currently, there are guided tours, various exhibitions and lectures read.
Interesting: In 1960, the Flagler Museum was organized in Whitehall which is considered to be one of the most beautiful architectural structures of the US and the first museum in Florida. In February 2000, he was included in the number of National Historic Monuments.
Place number 4: The Coral Castle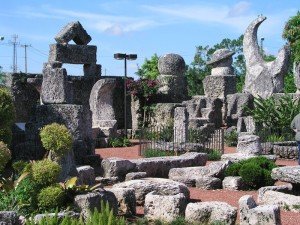 This place is definitely worth visiting because it is one of the most mysterious attractions of South Florida which is located in Homestead (that is situated about 50 km of Miami south-east.
If you go by car from Miami on the main highway in the direction of Florida City and on one of the intersections there is the index "Coral Castle is in 3 miles" you should turn to the west and to visit the really man-made miracle – Coral Castle. You won't regret spending time there. This place will impress all visitors, especially those who love mysterious stories.
Coral Castle is a huge complex of megalithic statues with a total weight of 1,100 tons. It had been constructed by hand without using any tools.
The complex includes:
a two-store square tower weighing 243 tons,
different structure,
massive walls,
an underground swimming pool with a spiral staircase,
stone map of Florida,
roughly hewn chairs,
a table in the form of heart,
an accurate sundial stone Mars and Saturn, as well as the 30-ton Moon with its horn accurately pointing to the North star
And all this castle was built by a small (152 cm, 45 kg) and weak-looking man – Edward who spent 20 years on construction of this building, dragging from the coast huge chunks of coral limestone and carving out of blocks, without using even a primitive jackhammer – all the tools that were used by him were made from the remains of an abandoned car. The stones are attached to each other without mortar and hold each other only by their weight.
In 1936, Edward started to move its facility to the place where it is now located. It took him 3 years to transport everything.
Can you believe this? Then go and see for yourself!
Interesting: According to the legend the story began in Riga. In 1913, a young man Edward has been engaged to a girl named Agnes. The day before their engagement Agnes said that she was not going to marry him, it left a deep impression in the heart of the young man. After a while Edward went to North America. At first he worked in Canada, then in California, and from there went to in Texas. In 1919, he made his way to Florida. Edward bought a small plot of land on which the construction of Coral Castle began. Some people said that the castle was built with the help of supernatural forces that Edward had.
Place number 5: Disneyland in Florida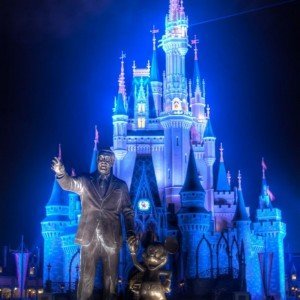 Disneyland is considered to be the most famous park in the world. There is no a person who doesn't know about it and there is no a child who has never dreamt to go there. There are five such parks and the largest one is Walt Disney World is located in Orlando, the United States of America. At all attractions you can see pirates, dwarfs, the beloved Winnie and many others.
Places that are very popular here:
Railroad Wild West,
"Splash Mountain",
"Island of pleasures" for adults which work 24 hours a day
Here you can find yourself in the magic world of Harry Potter (Orlando, USA). The park where the attractions, restaurants and shops are all devoted to one theme – the magic. You can immerse in the atmosphere of your favorite movies and books in the park. There are great rides "Contest with the dragon", "Cabin of Hitgard", and many others. The store "Sweet Kingdom" will not leave indifferent fans of goodies.
An entertainment complex Disney World has its full name – Walt Disney World Resort is located in Orlando, Florida, USA. You can safely assume that it is the greatest both in size and in the number of people who visit it daily.
Park near Orlando was built as a larger and improved version of Disneyland Park in California. The size and types of recreation places are impressive. Imagine a city on an area of ??100 square kilometers which is completely intended for leisure activities and entertainment. Any transport for guests of the park is free of charge there is no need to walk looking for attractions and restaurants. On the territory of Disney World in Orlando there are theme parks and water parks with some incredible slides, more than twenty hotels for all tastes can be found here, hundreds of shops and restaurants will attract you by their impressive choice.
The first themed amusement park here appeared in 1971 and was named "Magic Kingdom", which image is the logo and Disney World is a lock illustration of Cinderella 1950. Location and attractions of this theme park are similar to Disneyland Park in Anaheim, California and is also dedicated to fairy tales and Disney characters.
Magic Kingdom is divided into six themed "lands" located on 43 hectares. Along the perimeter of the park the famous Narrow Gauge Railroad Disney World runs. Since the opening of the theme park Magic Kingdom was suspended only because of the five hurricanes Floyd, Frances, Charley, Jeanne and Wilma. It was also closed from 11 September 2001 to 12 September 2001 in connection with the terrorist attacks on America September 11, 2001.
After the "Magic Kingdom", following the extension was the construction of the cultural and technological center of Epcot in 1982, which shows the space technology and future innovations. Hollywood Studios Disney 1989 Animal Kingdom was built in 1998.
Interesting: In 2014 the park was visited by 19,330,000 people, making it the most visited theme park for the sixth year in a row in the world. The construction of Disney World has transformed an ordinary provincial town of Florida in one of the most visited cities in the United States, which is on every tourist map of Florida and the US State attractions.
Place number 6: SeaWorld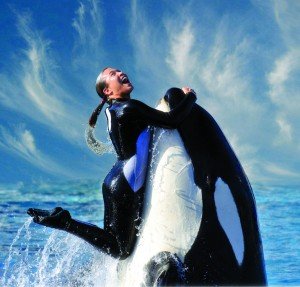 SeaWorld is a marine park that includes:
mammal parks,
aquariums,
marine animal parks,
amusement parks.
In the park there are aquariums with killer whales, sea lions, dolphins and zoological displays with different types of marine animals.
There are branches in SeaWorld Orlando, San Diego, San Antonio.
Interesting: March 5, 2007 Branch of SeaWorld Orlando announced about a merger with a water park Aquatica and the "Park of  Family Adventures", which already includes Discovery Cove. SeaWorld park also has a variety of rides, including roller coasters such as "Kraken" and "Manta".
Place number 7: Jacksonville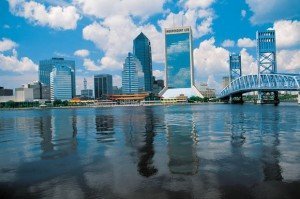 If you are in Florida then you should go to Jacksonville because it is the main town of the northern part of the state.
It is a lively and modern place with much to offer you:
beautiful riverside promenade,
excellent nightlife,
enticing shopping opportunities,
beaches,
world famous golf resort Sawgrass.
Jacksonville is located along the Atlantic Ocean in the northeast Florida. You will see it and make sure that it is a real paradise for those who are searching for an affordable and at the same time luxurious place to visit. It doesn't matter which goal you want to achieve if you want to discover the undiscovered or looking for romance or willing to reconnect with family, or be inspired by the cultural offerings – all your wishes will come true in Jacksonville.  You will like the "River City by the Sea" with more than 20 miles of uncrowded beaches.
Interesting: Jacksonville impresses with the largest urban park system which has 10 state and national parks. Jacksonville is considered to be a unique destination because of its authentic cuisine, fun and great nightlife.
Place number 8: Orlando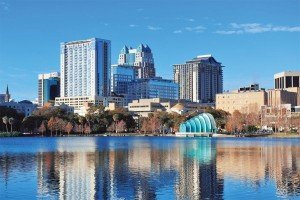 The city of Orlando is located in the heart of the state: the majority of visitors to Florida who come to spend their vacation here find at least a week to visit local theme parks, as well as nightclubs and restaurants (there are here about 4 thousand of such places to visit). In Orlando, you will find the world famous entertainment parks of Disney, Universal and SeaWorld.
In addition to them one more park Legoland has recently opened in the town of Winter Haven located at the south of Orlando. It is convenient to go from Orlando to the Center of Space Studies by John F. Kennedy.
There you definitely will not be bored:
Tampa amusement park
Busch Gardens,
Lowry Zoo
Florida Aquarium.
All of these places are worth visiting.
You need to find time for the charming historic district of Ybor City which once was a cigar capital of the world production.
The main attractions and entertainment are concentrated in Orlando, but many vacationers prefer to stay a little further south, on the outskirts of Kissimmee. There are many beautiful villas built, many of them have the reasonable price of rent. This area is especially attractive for those who wish to relax actively. There are a lot of offers how to spend your spare time.
You can try:
boating,
fishing,
ballooning
Interesting: Central Florida has recently become a center for outdoor activities. Here you can learn to skydive, fly on a hang glider, ride on four-wheelers and light off-road buggies, fly a plane, to master the art of aerobatics, as well as to drive an expensive "Ferrari" on the race track.
Place number 9: Ernest Hemingway Home & Museum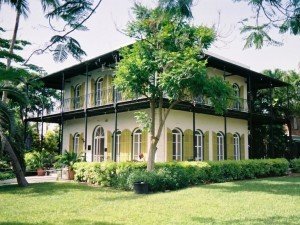 Everyone knows who is Ernest Miller Hemingway. This famous writer gave the world a lot of stories and novels, full of adventures and unexpected plot twists. In Miami, there is a wonderful museum which is situated in a colonial house of Ernest.
Hemingway Museum is striking in size, and at the same time it impresses visitors with the simplicity of its interior. Ernest didn't surround himself with luxurious things, and his house (which has not changed over the past decades) is more like a Spartan land.
Here you can find:
the collection of the manuscripts,
household items
personal belongings of the writer.
An important part of the museum is a polydactyl cat who Hemingway loved very much-today near the house-museum one can see several dozen descendants of the favorite cats of the writer.
This house became the place which inspired Hemingway to write his famous short story classics "The Snows of Kilimanjaro" and "The Short Happy Life of Francis Macomber.
Interesting: Near the exit of the Hemingway house in Key West there is a feline cemetery where cats are being buried since the 30s, and on each tombstone there is an engraved name and the date of the life of the deceased cat.
Place number 10: Juno Beach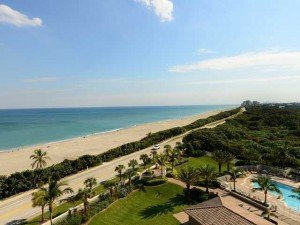 Juno Beach is a city which is located in the US, state Florida, in Palm Beach County. The city is situated at a height of 7 meters above the sea level. In the city there is a beautiful beach. On the beach it is permitted to surf, go fishing from the pier and visit a snack bar.
You should definitely go to the Juno Beach because of a number of reasons:
The seafood restaurant Thirsty Turtle will offer you a great choice of tasty dishes that you have never tried before
Here you will be able to play at the golf fields which are known all over the country,
Tennis courts and parks are waiting for you and your family and friends,
Don't forget to visit Marine life Center where you can admire the aquarium, live sea turtles and other coastal creatures.
Interesting: In the city center there is a lake, which presents a rich variety of vegetation and waterfowl. Around the lake gazebos, benches and picnic tables are placed, this makes this area an ideal holiday destination for residents and visitors.
Place number 11: Monkey Jungle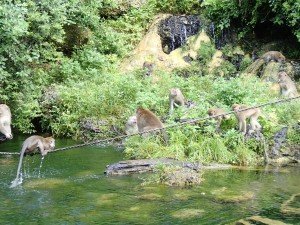 Monkey Jungle is a unique place on earth. This unusual reserve is a real jungle, where more than 400 monkeys live.
Here, you will be able to see:
gorillas,
orangutans,
gibbons,
mandrills
There are many other primates who live in the jungle with large families.
Monkey Jungle is an exciting entertainment and sightseeing of the downtown Miami. To get to this nursery, you need to go out of town by car. The reserve is located 35 kilometers from the city, but it is worth visiting it. You won't regret going there especially if you go there with children.
Interesting: The apery Monkey Jungle is a protected primate habitat in the United States of America which is at the same time open to tourists. Here you can communicate with a variety of monkeys as close as possible, and then buy souvenirs that will remind you about this unusual trip for a long time.
Place number 12: Museum of Salvador Dali
There is one more interesting place to visit while you are in Florida. This destination is the American Museum which contains a collection of works by famous Spanish artist Salvador Dali. Every year the museum is visited by about 200 thousand tourists from around the world.
Salvador Dali Museum was opened in Florida in 1982 by the friends of Dali in 1982. They were the married couple who owned the largest collection of his works.
The museum's collection contains:
watercolors,
sketches,
paintings,
sculptures.
The great Spanish surrealist left more than 2140 exhibits. Among them there are 96 oil paintings, over 100 watercolors and drawings by Salvador Dali, 1300 graphic works, photographs, sculptures and art objects, as well as an extensive archive library. It is the largest collection of Dali's work outside of Spain.
Interesting: The new museum building opened in 2011. Its construction lasted for two years and cost about $ 36 million.
Hope that this article will be useful for you when you plan your trip to the beautiful Florida. If you love night life you will enjoy visiting Miami, which is full of life and is considered the most fashionable, rich and luxurious. For those who love to spend time relaxing and sunbathing then St. Augustine has all the conditions for a beach holiday. Don't forget that Florida is the state of the sun. That is why it is the perfect place to visit due to favorable weather conditions.
Back
Video