The following two tabs change content below.

Veronika
I'm Veronica Brown, I've been traveling for more than 10 years, traveled to more than 100 countries of the world, sharing with you the most useful and important information on the pages 43places.com.

Kalamazoo is a sleeper urban getaway in the southwestern part of Michigan State. While it might not be as well-known Brethren, it has a lot of things to offer both for a long- and short-term trip. Its location makes it super close to the major metropolises like Chicago, Cleveland, and Indianapolis. It will take a few days for you to get a full taste of the city. So, here are some nice ideas for pleasant time-spending in Kalamazoo, from visiting amazing family attractions to trying great outdoors.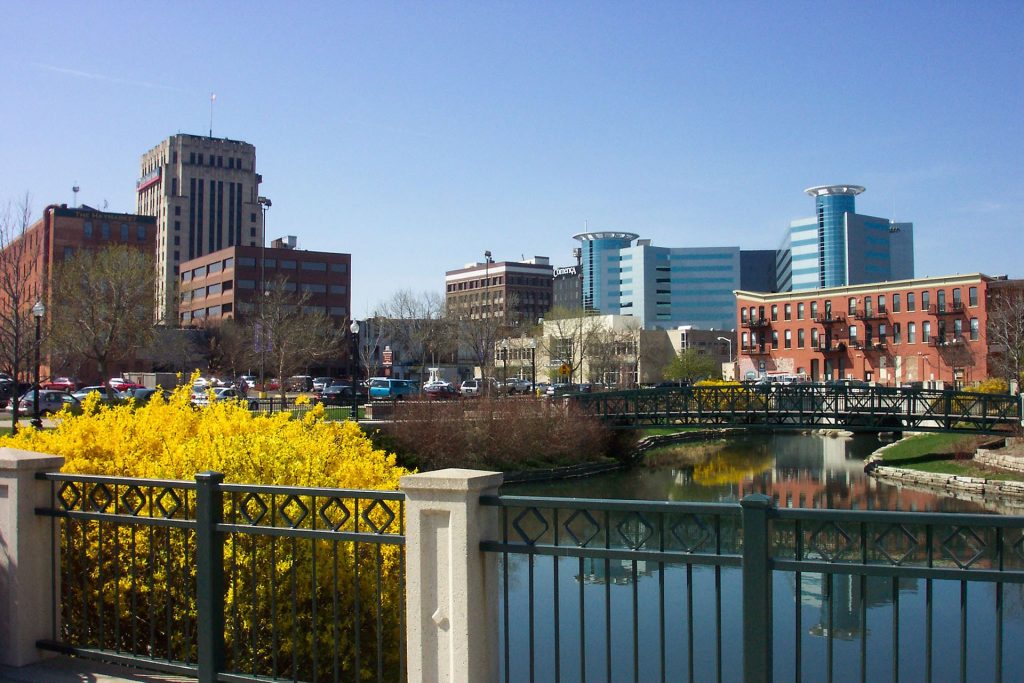 Contents
Most exciting thing to do 1: Have breakfast or a midnight snack at Sweetwater's Donut Mill
The best thing to understand Kalamazoo is to sample their food! There are lots of diverse cuisines just in the downtown area. You'll find everything from German sausages to Japanese sushi there. The variety of options is really impressive! But your trip to Kalamazoo won't be counted if you don't make a stop at Sweetwater's Donut Mill, the Garner family's local chain. You can stop at either Kalamazoo location to have light breakfast or have a midnight snack. Whether you prefer classics like strawberry jam and chocolate or more unique flavors like peanut butter and whipped cream, they have it all. By the way, Sweetwater's Donut Mill is available 24/7, making it impossible for you to miss your chance.
Interesting: Having been founded in 1993, Sweetwater's Donut Mill managed to grow into the best chain of donut shops not only in Kalamazoo but also in the nearby areas. Even if you are not a sweet tooth, you will be amazed by more than 50 tasty donut options to choose from.
Most exciting thing to do 2: Explore history at Kalamazoo Valley Museum
The Kalamazoo Valley Museum is a regional history, science and technology museum on the downtown campus of Kalamazoo Valley Community College. It aims to showcase the local contributions to the world. In the "Kalamazoo Direct to You" gallery, visitors can find such items as yellow Checker Cabs, musical instruments, dishes, and toys that come from Kalamazoo and southwest Michigan. The interactive "Science in Motion" gallery reflects on human health, optics and mentality. The "Children's Landscape" involves miniature play areas: an old-fashioned store, an ice cream shop from the 1950s, and a modern television station. Generally, the Kalamazoo Valley Museum is an interactive and family-orientated museum that is focused on historical technological and scientific events. Currently, the facility is represented by more than 50,000 artifacts. These include the Mystery of the Mummy exhibit, containing a 2,300-year-old Egyptian mummy and other traces from ancient Egypt. In addition, there are exhibits covering the aspects of local history and industry as well as several scientific fields.
Interesting: Apart from exhibits, the museum involves a 109-seat planetarium that demonstrates a vast array of presentations with the special audio and video equipment to let visitors see the stars and planets.
Most exciting thing to do 3: Get your dose of caffeine at Water Street Coffee
Mark Smutek started Water Street Coffee in 1993. Since that time, the place has been serving hot coffee to the residents and visitors of Kalamazoo. The facility managed to grow from a one-man coffee shop to a successful chain of cafes. While working with Royal Importer, Water Street has employed lots of farm workers in countries such as Ethiopia and Mexico. Thanks to fair trade and growing organic coffees, Water Street has affected the lives of many workers.
Even though Water Street's coffee is purchased from other countries, the company strives to buy other food and beverage compounds from local farmers in Kalamazoo and surrounding areas. By using the fruits and vegetables from the local farms, Water Street has helped local farmers to boost the local economy.
Amazingly, the local chain of Water Street Coffee has grown from one shop to five thanks to its delicious house-roasted beans and a well-thought menu. Whether you want to get a cup of coffee or have proper breakfast or lunch, Water Street can cover you on that.
Interesting: As for a relatively small town, a Water Street Coffee has developed a good infrastructure by having their facilities in Downtown, in Portage, and on Sprinkle Road. Thus, you have more than enough opportunities to start your day.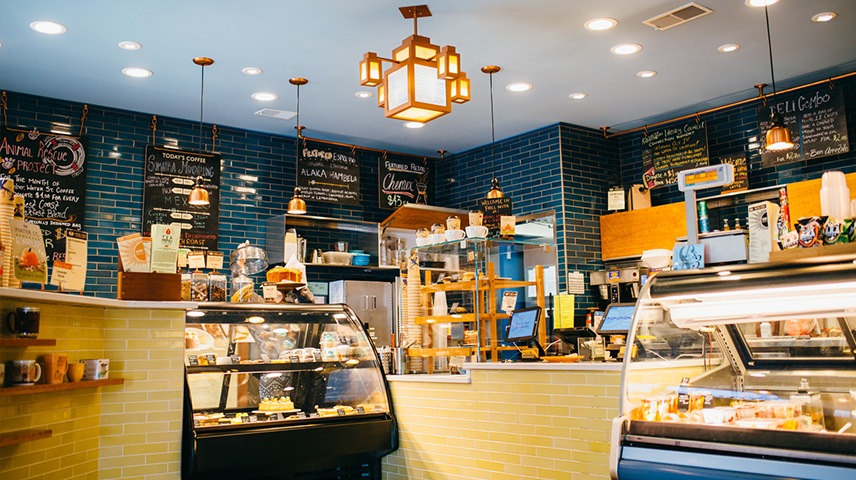 Most exciting thing to do 4: See the 20th-Century Art at Kalamazoo Institute of Arts
The Kalamazoo Institute of Arts is a non-profit art museum in Kalamazoo's downtown that is well-known for its collection of the 20th-century American painting and sculpture. Apart from the popular representatives of American culture, you will be able to check some African-American works, European prints, photography, as well as contemporary ceramics. The museum is quite involved with local schools and the community, so its exhibits often represent the shows from high schools, young artists, and other locals. Other exhibits are based on the works borrowed from other museums, galleries, and private collections. Apart from temporary exhibits, the museum has around 5,000 pieces in its permanent collection.
Interesting: The visitors can enjoy the works of Andy Warhol, Ansel Adams, Dale Chihuly, Norman Rockwell, Deborah Butterfield, Mary Cassatt, and many other artists.
Most exciting thing to do 5: Join the tour around the Bell's Brewery
You cannot visit Kalamazoo without seeing Bell's Brewery, a family-oriented craft brewing company. Believe it or not, but the home of Two Hearted Ale started its way in K-Zoo. Bell's Brewery was founded as a homebrew supply store in 1983 that grew into a nationally recognized brand, distributed to over 30 states across the United States. In 2019, Bell's Brewery was recognized as the largest independently owned brewery in the state, and the 7th biggest craft brewery in the country.
Bell's Brewery produces its Porter, Kalamazoo Stout, Light Hearted Ale, Amber Ale, Two Hearted Ale, and Official all the time. Some sorts of beer are produced seasonally: Oberon Ale, Best Brown Ale, Chrismas Ale, and Bright White Ale. Also, there are some additional beers that are sold on tap at its brewpub.
All visitors are given a unique opportunity to take a free tour of the downtown headquarters (on Saturdays and Sundays) to learn the history of this family business. Also, you will be able to taste all of Bell's beers, including the most popular sorts and the local options.
Interesting: It is highly recommended to try the Porter Beer Cheese Soup or order a salad with "seasonal beer vinaigrette" while DJ soundtracks serving you a delightful background.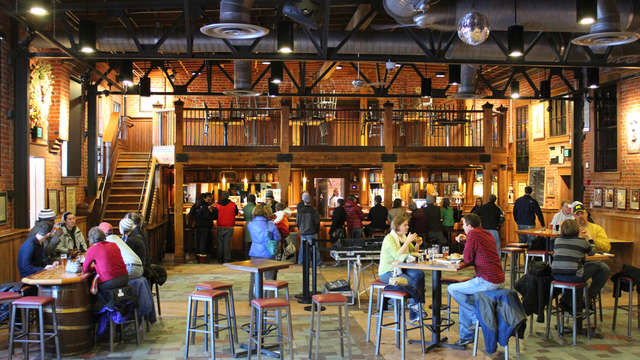 Most exciting thing to do 6: Explore the miracle of the flight at the Air Zoo
Air Zoo or the Kalamazoo Aviation History Museum is an aviation museum and a closed entertainment park that was founded by Pete and Suzanne Parish in 1979. Their major idea was to preserve the legacy of flight for present and future generations. Located not far from Portage, it covers a large area to place all the archival collections. This aviation paradise involves more than 50 historical and modern aircrafts. For instance, you can check out exhibits on the history of space exploration, have fun on the amusement park-style rides, as well as try 3D flight simulators.
Interesting: The entrance to the Air Zoois available for a fee, starting from $15.50 for adults. The ticket includes access to all the exhibits, rides, and flight simulators.
Most exciting thing to do 7: Have fun while playing bubble soccer in Bronson Park
In the 1850s, Bronson Park was constructed in the center of downtown as a meeting point, shady place for picnics, and green area for walking to the people of Kalamazoo. Covering the area of more than 3.5-acre, it involved several fountains, a band shell, and even statues praising war veterans. Of course, it doesn't mean that your time-spending in the park should be limited to sightseeing. Have you ever heard about bubble soccer? It is a ton of fun. By renting Bubble Soccer equipment, you will be put on giant inflatable orbs and play soccer while hitting the other players. Honestly, you can hardly find any better place for enjoying Bubble Soccer than K-Zoo's oldest park. If you are a choosy tourist, you can try some other game types, including Standard Bubble Soccer, King of the Ring, and Red Rover!
Interesting: Bubble Ball Rental starts from $450 for 10 people, so you need a group of people to split the cost of the suits, soccer ball, and goals.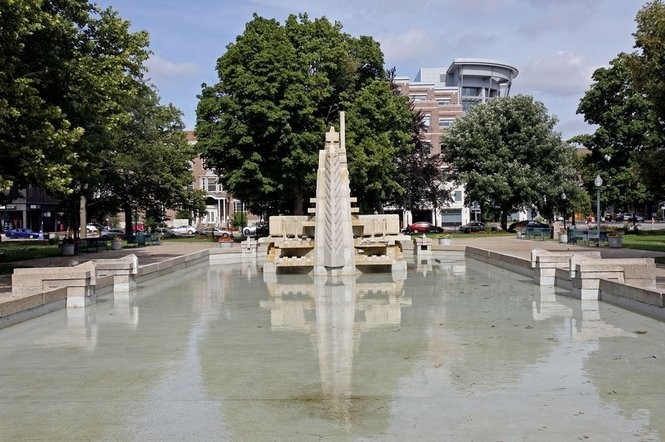 Most exciting thing to do 8: Enjoy nature in Kalamazoo Nature Center
Kalamazoo Nature Center is a nature preserve that covers the area of more than 1,000 acres of hills and woods in the northern part of Kalamazoo. The major attraction of the nature center is represented by over 10 different trails of hiking and walking paths through the center's ponds, forests, and other wildlife areas. You can find one that is suitable for your ability level. For instance, the trail called Habitat Haven is a 0.6-mile handicap-accessible trail that features a variety of habitat overlooks. Also, there are Fern Valley Trail and the 2.7-mile Bluebird Trail, which are the park's longest trails.
Interesting: The Kalamazoo Nature Center's goal is to motivate people to care for the environment by providing experiences and making them understand their connection to the natural world. From discovering the Sculpture Walk in the Arboretum to checking an exhibition in the Glen Vista Gallery, there is always something exciting to find there!
Most exciting thing to do 9: Seeing a play at Kalamazoo State Theater
Even if you are not a theater-goer, you still should try to see one of the plays performed by Kalamazoo State Theater. The grand theater has turned into a Kalamazoo landmark since 1927. Although the historic part of the theater has been renovated, it still has much of its original charm there. The venue involves the best touring bands, events, and other performances. By the way, the state theatre makes full-service concessions available during and before each of their shows. The major offerings involve draft and bottled beer as well as liquor, water, and soft drinks. If you are looking for a more substantial meal, you can visit one of the nearby restaurants.
Interesting: The average price for a reservation is around $35, while the price for special performances may reach $100 and higher.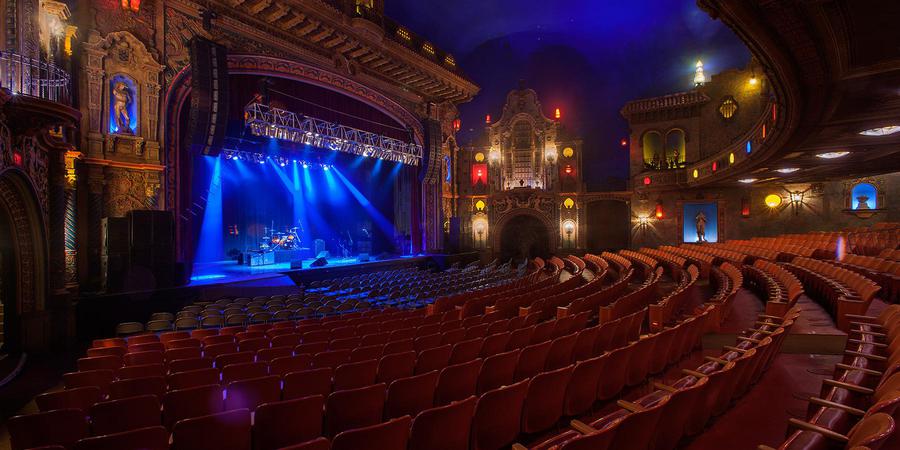 Most exciting thing to do 10: Visiting a match of The Kalamazoo Growlers
The Kalamazoo Growlers is the baseball team representing the city of Kalamazoo. The team's name is widely associated with the plethora of microbreweries in and around Kalamazoo. The team is a part of the Northwoods League, playing their home games at the Homer Stryker Field. It boasts a seating area known as the Miller Lite Party Zone that involves picnic seating, buffet snacks, and free-flow soda and water. They also offer an indoor/outdoor suite, the so-called Bell's Bear Cave as well as the Home Plate Club, offering premium game-viewing experiences.
Interesting: If you decide on visiting one of their matches, you'd better buy a t-shirt or a cap with a mascot on it, a black bear named Porter.
Most exciting thing to do 11: Spending time in Sky Zone Trampoline Park
Sky Zone Trampoline Park is a chain of indoor trampoline parks in Kalamazoo. The park offers freestyle bouncing options, dodgeball, and fitness programs. The inside area is filled with massive, wall-to-to wall trampolines. The trampoline park also features a Foam Zone, where visitors can launch themselves from trampolines into a big, foam-filled pit. Skyslam basketball hoops let visitors challenge their friends to a friendly game of basketball where the court is made up of trampolines.
Interesting: If you have kids, you should know that Sky Zone Trampoline Park offers special jump events for young visitors giving everyone an opportunity to have fun.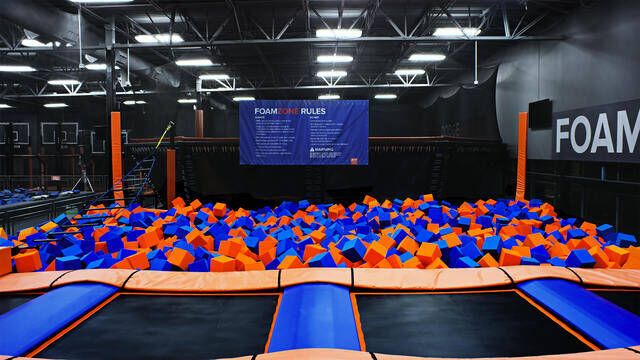 Most exciting thing to do 12: Trying Confections with Convictions
Confections with Convictions is a chocolate and candy shop focusing on hand-made truffles mixed with organic, fair trade chocolate. Most recipes have been created by chocolatier Dale Anderson. Apart from the shop's own hand-made products, they offer a variety of gourmet, organic, and fair-trade chocolates from different places all over the world. The store was founded to give young people a chance to try hard work.
Interesting: The name of Confections with Convictions comes from the fact that the business supports young people in the court system towards a more productive future. They use the healthiest ingredients in their sustainable production process.
Most exciting thing to do 13: Enjoying the historic charm of the Henderson Castle
The Henderson Castle is one of the most popular and most impressive attractions in the city. The hotel is situated in the historic area of West Main Hill. The amazing castle used to be the residence of Frank Henderson, one of Kalamazoo's most successful early businessmen. While the historic venue is known for its old-fashioned charm, it offers many modern amenities such as WI-FI, heated marble floors, a sauna, steam room, hot tub, and some others.
Interesting: For those guests who decide on overnight stays, the inn has an organic garden, vineyard, spa center, and restaurant.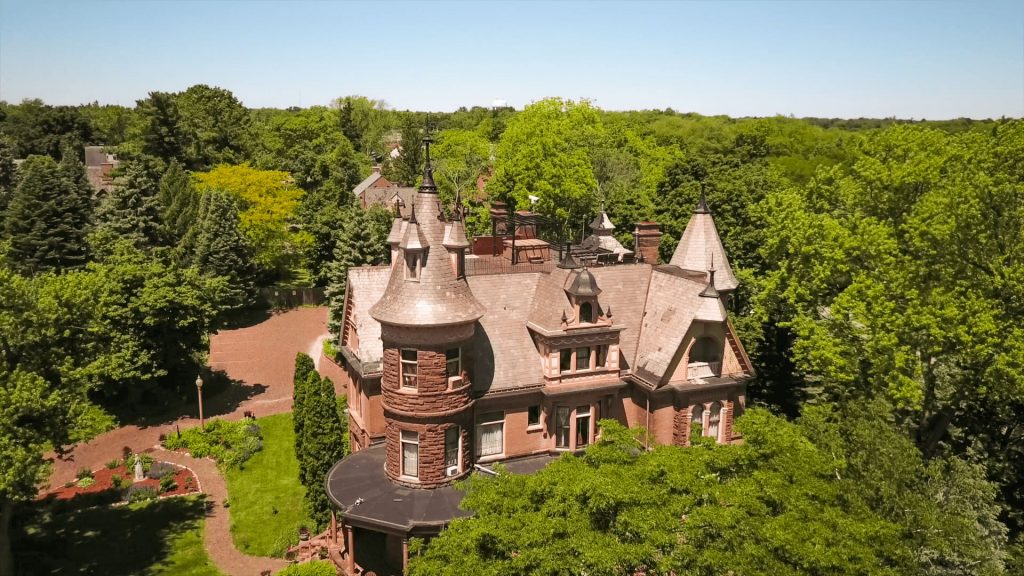 Video