The following two tabs change content below.

Yura
I am Yura Matskevich, traveled around 74 countries, travel is my passion, on pages 43places.com I share useful information.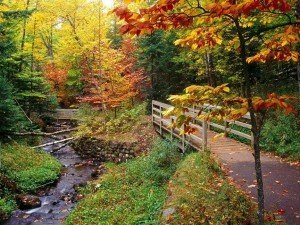 If your most desired place to visit has always been the United States then it will be great to know more about this country starting from exploring Michigan. You will never regret if you travel to this beautiful state. The nature has endowed Michigan with much beauty among which the first place must be taken of course, by the Great Lakes (Erie, Guron, Michigan and Lake Superior). In the territory of Michigan there is the reserve Pikched-Roks, falls Takhkuamenon, and also a set of islands, the largest of which is Northern Manita and Youzhny Manita on the Lake Michigan, Ayl-Royal and Grand Island on the Lake Superior, Bua-Blan-Aylend and Makino-Aylend on the Lake Huron.
If you are planning your vacation you will find this article useful for you. If you choose Michigan your next travel destination, there are the most beautiful and interesting must –see attractions which should be definitely included in your list of places to visit. Hope you'll come and see them for yourself one day!


Contents
1: Mackinac Island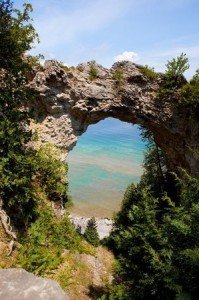 Are you fond of the outdoors? Then Mackinac Island is exactly for you.
It offers you:
unforgettable hiking adventures
the most scenic views.
Mackinac Island can entertain you with many cultural events, one of them is an annual show of American art from the Masco collection of XIX-century works at the Grand Hotel. There are not less than five art galleries there.
You can also enjoy:
The art shows
Dancing to the tune of great live performers.
A bike ride along the seaside
Here you can have endless possibilities to make your Michigan vacation a memorable one.
Interesting: Mackinac Island was listed as a National Historic Landmark in 1960. Most of the Mackinac Island's buildings are made of wood, and only some of them are built of stone. The architectural styles on the island have already been 300 years. Here you can see the earliest Native American structures as well as the 19th century's styles.
2: Comerica Park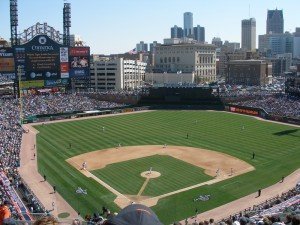 If you are a baseball enthusiast then this park is like a must-place to visit because it is a home to the Detroit Tigers. You will have a great time walking through Comerica Park.
You should definitely come to watch the most thrilling baseball games and then find time to visit the park's museum which will tell you everything about this park.
Here there are so many attractions that each will be able to find something for him:
1.Big Cat Food Court
It offers a great choice of food including lemonade, elephant ears, French fries, gyros and Chicago style hot dogs.
2.Comerica Carousel
It is an ornate carousel which features 30 hand-painted tigers and 2 chariots. It is situated at the base of the food court behind the 1st base area. The ride is also accessible for wheelchair.
3.Tigers Retail
Five Tigers stores in Comerica Park offer its fans official Tigers souvenirs and media guides.
4.Tiger Den Lounge
This is a private area for the Tiger Club members. Here you can see a private bar and dining. If are not a member of this club and don't have a friend who is its member but want to dine at the place of your favourite players then it is possible to rent it and organize a private party.
5. Beer Hall
All fans of such beverage as beer will be happy to discover that this up-to-date tavern has a great selection of both local and international beers.
5. Fly Ball Ferris Wheel
It is situated on the 3d base side of the Comerica Park. This 50-foot Ferris wheel features cars that are shaped las baseballs with having places for five passengers.
7. Liquid Fireworks
There is a fountain producing an amazing display of "liquid fireworks" together with music and bright changing lights.
Interesting: The 1st game was taken place in 2000 with more than 39 thousand of spectators who came to watch it in spite of the cold snowy afternoon. The temperatures was about 34 that afternoon.
3: Henry Ford Museum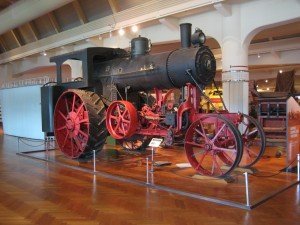 Here you can find the greatest inventions of America.
Do you love cars? Then you will definitely enjoy going through the Presidential Limousines exhibit!
Are you a fan of everything about airplanes and things that fly? Here you are! You will like the Heroes of the Sky exhibit.
Do you want to go back to the past and know more about the legacy of American innovators? There is a great opportunity for you to meet the inventors of the 18th– 20th centuries here.
Interesting: Henry Ford Museum appeared as Henry Ford's personal collection of historic objects, which he started to collect in 1906.
4. Ford Field
There is no better place to visit if you want to see any big sport show, concert, or other live events, Tens of thousands of audience can seat at this stadium. You will enjoy the best acoustics here.
Have you ever wanted to visit a concert of Madonna or Bon Jovi? Then this venue would be the best one to catch them.
Unlike most indoor stadiums, it can be reached by a large amount of natural light thanks to:
immense skylights
large glass windows at the open corners.
Interesting: Ford Field is one of 9 places in the NFL that has end zones in the east and the west
5. Detroit Zoo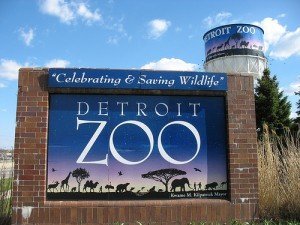 Are you planning to go to Michigan with your children?  If yes, they will be extremely happy to find themselves at the animal kingdom at the Detroit Zoo. Your children will open a world of wonder and amazement that will leave a lot of positive emotions not only for kids but also for their parents.
There are many educational animal exhibitions:
the Polk Family Penguin Conservation Center
the Passport to Adventure.
It is one of the greatest family attractions in Michigan. Do you want to see red panda or a snow leopard? Visit Detroit Zoo and feel the wild nature around you.
Interesting:  The Detroit Zoo was the first one in the United States of America which began using barless exhibits everywhere.
6: Isle Royale National Park
This park is exactly for those people who are fond of backpacking and camping.
Recreational activity on Isle Royale includes:
hiking,
fishing,
boating,
kayaking,
observing nature.
Isle Royale is one of the places to visit at least once in your life. Rugged terrain surrounded by Lake Superior…what can be more beautiful than this? Trekking through the trails will give you the possibility to meet wolves and moose among many of the exotic wildlife roaming freely in this park.
Interesting: Each centimeter of ground here can tell its story.  When you stand at the top of the cliffs at Passage Island lighthouse, you stand in the footsteps of 100 years of light keepers watching the lake and trying to keep ships safe.
7: Sleeping Bear Dunes National Lakeshore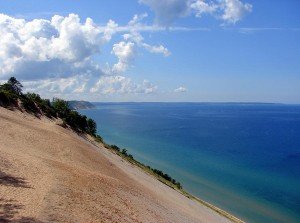 Sleeping Bear Dunes will suit those who like active traveling. Spending a weekend here is a dream of a family who admires:
climbing the dunes
swimming at the lake
hiking through the Maple Beach Forest.
Interesting: The legend of the sleeping bear
Many years ago, in the forest named Wisconsin, there were Mother Bear with her two cubs. Once, a roaring fire burned everything there. Mother Bear, her kids and all the animals came to the great Lake Michigan.
Like all bears, they were great swimmers, and after her urging cubs plunged into the lake. She knew there would be no food after the fire, that's why she kept the light and smoke of the fire behind them and swam east. Now all cubs are good swimmers, and Mishe Mokwa and her cubs were fat from the bounty of the forest so they were able to swim through that day and night. Then she lost them somewhere in the dark.
Late the following day, she saw the tall Michigan's dunes. When she reached the shore her kids weren't anywhere. She called them but got no answer. Then she saw them struggling far offshore through the cold waters. Her heart broke and slipped beneath the waves.
She was heartbroken and very tired for a long time, watching the places where her cubs had died. Gitche Manitou raised two islands devoted to her sorrow and faithfulness. The islands are North Manitou and South Manitou which are meant to celebrate her brave cubs. Knowing that the heart of a mom would never stop suffering, Gitche Manitou laid a dream upon her and drew the sand over her like a blanket.
8: Traverse City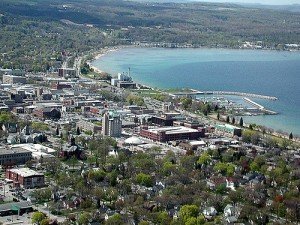 There are so many things to do and places to visit that it is not surprising at all that thousands and thousands of tourists come here so often.
What activities can you enjoy here:
During winter you can go skiing
In summer you can: boating, kayaking, canoeing in the lake.
Tourists who like knowing more about the culture will be satisfied with their museums and art galleries. If one of your aims was shopping then this place must be your destination while shopaholics will be happy to find the latest fashion clothes and many other things at the down town shopping district.
Interesting: Traverse City's northern position on the 45th parallel and its location on the western edge of the Eastern time zone gives the opportunity to enjoy daylight well in the late evening throughout the spring and summer!
9. Kalamazoo Air Zoo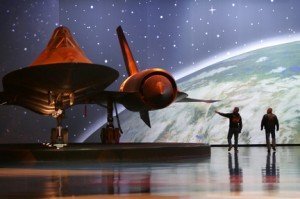 If you travel with kids then don't leave Michigan without spending at least one day of fun, adventure and exhilarating rides offered at the Kalamazoo Air Zoo. It has been called the "Best Place To Take Out-of-Towners" for three years.
What can you do here:
You can go on a thrilling 3D Space Shuttle Ride
Have a great time at the 26 foot indoor Ferris wheel.
There are so many things that you and your kids will enjoy and discovering about flying is only start
Interesting: There are over 50 historic aircraft which are very rare, if you like traveling exhibits, educational activities, various rides and attractions then it will be easy to find all of them in one place.
10. Detroit Institute of Arts
All talented people who have a strong desire to see all fine things in life should go to the Detroit Institute of Arts. It has the largest and the most important art collection.
Here you can find the works of the greatest artists from Africa, America and Asia.
Interesting: Currently, there are more than 60,000 unique and creative works in the museum.
11. Maple Syrup Festival in Vermontville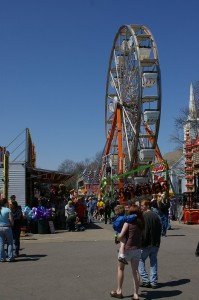 Local weekend festivals are celebrations of small life in a town. The annual Maple Syrup Festival in mid-state Vermontville is the traditional small-town event which offers:
arm-wrestling contests,
a pancake derby,
Bovine Bingo involving betting on a square drawn on a football field where a cow is allowed to roam free until it leaves a dropping on the winning number.
A Maple Syrup Festival queen is crowned at the end of it all. It is held every year on the last day of April.
12. The Pine River
The Pine is situated about a half hour west of Cadillac, suggests a challenge that can't be found on more famous rivers, like the Au Sable or Rifle You can win from the fast-moving water and obstructions. Visitors should definitely taste best Upper Peninsula food .The cinnamon toast is made in the U.P. town of the same name.Trenary Toast can be saved until the next millennium.
The Pine River Paddlesport Center has:
canoes,
kayaks,
stand-up paddleboards,
rubber rafts,
tubes on Michigan's premier paddle sport rivers, the Pine and Big Manistee.
Interesting: In the Midwest the greatest selection of canoes, kayaks and rafts can be found.
13. Blue Water Area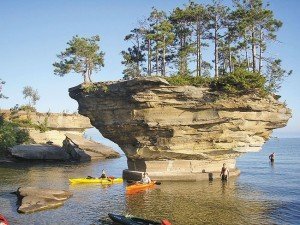 The eastern shores of Michigan are waiting for you to delve in.
Discover the Blue Water Area on the shores of Eastern Michigan. There are many variants what to do here.
So you can:
rent a kayak to traverse the waterways,
climb the tower of a stone lighthouse,
tee off at a pristine golf course,
visit the local brewery.
Choose your passion, you are always welcome in the Blue Water region!
Points of interest in this area:
The Blue Water Bridge.It is an international crossing between the USA and Canada. If you enter another country you and people who are in your vehicle will be asked to be able to prove their citizenship.
The Blue Water Convention Center is Michigan is the newest waterfront hotel and convention center. It is about 34,000 square feet of state-of-the-art meeting space. It offers the perfect meeting location.
The Blue Water River Walk is a shoreline path along the St. Clair River.  Here you can spend hours watching freighter traffic and enjoy view of the St. Clair River. It is a really unique place to visit
14. Holland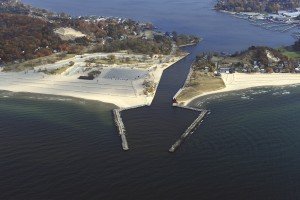 You will definitely fall in love with this place, especially if you come in May. Every year in May Holland held Tulip Time Festival which is a very beautiful event. More than one million tourists visit Tulip Time annually. You can become one of them this year!
Places to visit in Holland:
Holland State Park
Outdoor Discovery Center
DeGraaf Nature Center
Nelis' Dutch Village
Windmill Island Gardens
Tunnel Park
Veldheer Tulip Gardens
DeKlomp Wooden Shoe & Delft Factory
Big Red Lighthouse
Holland Museum
Interesting: If you want to know Holland better but you don't have enough time to visit all the mentioned places you can visit its museum at least which is the best place to get acquainted with the history. Here you be able to become the witness of the arrival of the Dutch in 1847 and their battle for access to Lake Michigan. Holland can be proud of the amazing story of its rise from the ashes, the birth of Tulip Time, progress in economic growth.
15. The Porcupine Mountains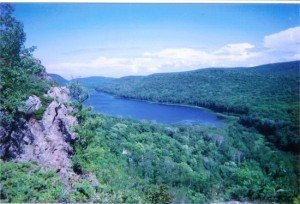 The Porcupine Mountains will be able to offer you such great experiences as nowhere else can be found.
Here you will be lucky to:
See hundreds of spectacular waterfalls.
Go beachcombing for colorful stones and agates along 21 miles of pristine beaches.
Paddle your sea kayak over crystal waters along Lake Superior's shores
canoe the winding Ontonagon River.
Ride 21 miles of mountain biking trails overlooking old-growth forests.
Hike, snowshoe and cross-country ski miles of scenic trails winding
Tour lighthouses and historic copper mines
See the awe-inspiring Lake of the Clouds and man-made marvels one of which is the Victoria Dam.
Visiting the virgin forests and undisturbed beaches of the Porcupine Mountains Wilderness is like taking a step back in time.
In total, there are trail systems that are 87 miles running throughout the Porcupine Mountains Wilderness State Park.
Interesting: There are many interesting facts and myths about Porcupine Mountains. Here we are going to reveal some of the fables:
1. Myth: Porcupines are crawling everywhere around the Porcupine Mountains area.
Fact: There are really some of porcupines in that area, however its name is from similar silhouette of the tree-covered mountaintops reminding a porcupine.
2. Myth: Being situated nearer to the North Pole the Porcupine Mountains' stars are able to shine brighter.
Fact: Yes, there are very bright stars and there is no better place to visit if you like stargazing but the reason is different. Here you can't find any streetlights or any urban light sources which are able to spoil the sky at night.
3. Myth: Northern Lights don't exist.
Fact: It is not true and the Porcupine Mountains are the ideal evidence of this fact. The Northern Lights appear from time to time during the year. You will be lucky if you are able to catch a great lightshow created by them. When there is nothing happening you can't notice them because the Northern Lights can be imperceptible.
4. Myth: One or two days will be enough to go sightseeing to the Porcupine Mountains.
Fact: You will need at least about four or five days because the Porcupine Mountains area has a lot of activities to provide its tourists with. Here you can relax and rest from the busy city life having forgotten about your everyday routine and enjoying beauty of the Porcupine Mountains. Everybody who comes here want to return again!
5. Myth: There is a local English known as "Yooper."
Fact:It is possible to meet people with some special accent here but it can't be called another language or the other form of English actually because all Americans talk funny.
6. Myth: Going to the Porcupine Mountains is similar to traveling through time.
Fact:the Porcupine Mountains are really very ancient.  You can see the oldest forests in North America here but now there are all the modern conveniences. It can be true only about the border between the Central and the Eastern Time Zones if you want to check if it is the myth or not and to step back in time then you have such possibility if traveling westward.
Start your sightseeing now and enjoy all the attractions that this place is ready to offer you. Michigan is one of the greatest places to visit not only in the Unites States of America but in the whole world!
Back
Video