The following two tabs change content below.

Veronika
I'm Veronica Brown, I've been traveling for more than 10 years, traveled to more than 100 countries of the world, sharing with you the most useful and important information on the pages 43places.com.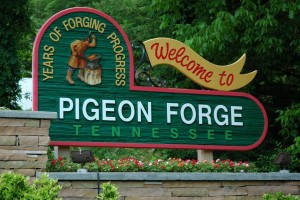 Pigeon Forge is a famous resort town located in the state of Tennessee, five kilometers from the Great Smoky Mountains National Park. In the city with a total area of 11.6 square km there are about 6 thousand people. Today Pigeon Forge is a fairly large tourist center.

Pigeon Forge is considered one of the most popular resorts of southeastern US states. At first glance, it may seem like an ordinary town, but it's not entirely true. There are a lot of very interesting sights to see here. Find out more about must things to do in Pigeon Forge here.
Contents
Thing to do number 1: Entertain yourself in the Park Dollywood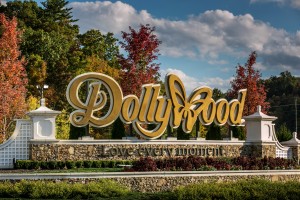 Imagine how it is great to go to a real amusement park. To ride the real to the noise in the ears and the sinking of the heart of the attractions, go down to the grotto with horrors and other blood-cold and exciting imaginations …Visiting Dollywood you will definitely get a lot of new emotions.
Dollywood is a theme park, which was founded in 1961. The park was named after the American country singer Dolly Parton. Dollywood, by the way, belongs to her and the corporation Herschend Family Entertainment.
Dollywood is open for visitors from March to January, and annually it is visited by about two and a half million people.
What to do in Dollywood?
Learn more about the history of the state: the park is divided into ten thematic zones, each of which represents one or another stage in the development of the history and culture of the state of Tennessee.
Attend at least one of the festivals: In the park there are five different festivals being held, including National, Children's and Christmas.
Dollywood has many different attractions: roller coasters, water slides and other similar entertainment for children and the whole family. The park also houses a nature reserve, a chapel and a puppet Parton, an interactive museum showing Dolly Parton's memorabilia.
Interesting: In 2010 the park received the Applause Award, which is awarded to the best amusement parks in the world.
Back
Thing to do number 2: Visit the Titanic Museum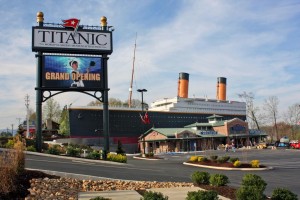 If you are one of lovers of unique museums, then don't miss an opportunity to visit the Titanic Museum that is really unique. There are several things you will definitely be impressed with:
The building of the museum is an absolutely exact copy of the sunken ship, with a scale of 1: 2.
Inside the museum you can find things that were raised from the ocean floor after the shipwreck.
Before entering the museum, each visitor is given a ticket, as if he is a passenger of a ship. Each ticket has a name. It will come in handy at the end of the examination of the exposition of the museum – it will be possible to find out whether you survived or not. That is, each has its own destiny, exactly the same as the real passengers of the Titanic.
Unfortunately, not all passengers survived, so many are sometimes upset at the exit from the museum but this does not affect the excellent mood of visitors in general.
The ship has an unusual atmosphere, the museum staff is dressed in an officer's uniform, here and there you can see maids and, of course, the captain. During the tour, the sounds of the siren are switched on, a bell ringing warning of danger is heard, in short, visitors are invited to at least remotely experience what the people on the board of Titanic experienced.
You can even touch the iceberg, which the ship came across. For understandable reasons, not all things have survived, therefore in the rooms of the museum there are copies of objects. But it should be noted, these copies are very high-quality, and distinguishing them from the original can be very difficult at times.
Interesting: The Titanic Museum, in addition to its direct purpose, also works as a hall for various celebrations. Here you can celebrate a birthday, and even have a wedding.
Back
Thing to do number 3: Go to the Ripley's Believe It or Not Odditorium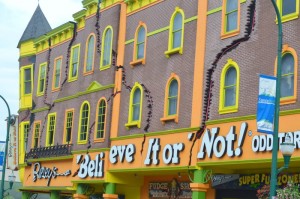 If you like everything unusual then you should definitely find time to go to the museum, where you will find unique artifacts from all over the world. Robert Ripley was traveling around the world with the aim to find some interesting things, stories, unique people and other attractions. The museum has 3 floors, where you can see 500 artifacts. Both adults and kids are impressed by the collection of Ripley.
Before you find yourself inside the museum, you will be able to touch a 5-ton granite ball floating on water. After entering the museum you will find a hologram of Ripley. You will be able to know more about how Robert Ripley has started gathering his collection all over the world. Visiting the museum you may see the following things in the museum's collection:
Cow with two heads;
Buffalo with eight legs;
Ancient Tibetan skull;
Head from Ecuador;
Lock of hair belonging to G. Washington;
A death mask of the bank robber J. Dillinger.
This is not the full list of interesting things to see as there are really many attractions to look at. Here you will find several unique pieces of art. There is a portrait of Hendrix that was made of Rubic's Cubes and a picture of Sandra Bullock that is made using candy only. You will need about 2 hours to see all the exhibits presented here.
Interesting: Purchasing combination tickets you get the chance to see all Gatlinburg's Ripley attractions.
Back
Thing to do number 4: Visit the Elvis and Hollywood Legends Museum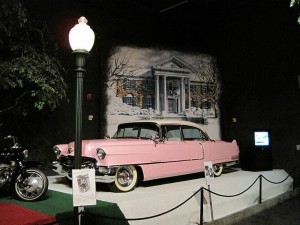 Like rock and roll or maybe you are a fan of Elvis? In the museum dedicated to the famous singer Elvis Presley, you will be able to find the largest private collection of the memorabilia of the King of Rock and Roll. The Museum offers visitors to plunge into the rock and roll atmosphere and learn more about Elvis.
There are a lot of interesting exhibits, among which you must definitely see the following:
Exhibit telling the story of the LA-to-Memphis flight when Elvis Presley asked the pilot to land in order he could get a peanut butter and banana sandwich. The bottle of champagne he was serves can be seen here too.
Elvis's karate paraphernalia;
Wedding reception ice bucket;
Bathing suits;
Personal Frisbee;
Gaudy watches;
TCB Ring designed by Elvis.
Interesting: Here you can see even the first dollar Elvis earned that is signed by the singer.
Thing to do number 5: See thousands of tropical birds in the Parrot Mountain and Gardens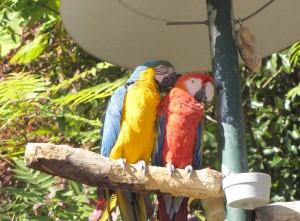 This place looks like a Paradise with many beautiful plants and birds. There is no similar place to the Parrot Mountain and Gardens, where you can observe so many different birds at the same time. This is the most peaceful place you have ever been to. Here you can feel the harmony with yourself enjoying nature and magnificent creatures.
However, visiting this place you will be able not only get a portion of positive emotions and feel relaxed but also find out more about the care of birds and all creatures living here.
Here you will see the stairway to paradise- a replica of Thomas Kinkade. A lot of pathways will lead you to the unique parrot cottages, each of which has its special design. These are not just usual cages for birds we got used to see as all roof lines are different:
Slate roofing,
Water reed roofing,
Cedar shake roofing.
This place is great for families with kids as well as for couples in love as there is a very special atmosphere. You can see birds sitting on open perches. There is a secret garden hidden by a yellow door. Kids will especially like the baby bird nursery where it is possible to pet birds and watch them being fed from the hand. If you would like to have one of the birds as your pet, it is also possible. You will be told how to take care of the bird you have chosen for you to be able provide it the same quality care at home.
Here you will see birds of all sizes and colors: toucans, magpie's, silvery cheek hornbill and many others. You can even feed birds with seeds from your hands or make photographs. Have a rest sitting near the waterfall and listening to its relaxing sound.
Interesting: There is a gift shop to buy many interesting souvenirs and everything you may need for your home.
Back
Thing to do number 6: Dive into the world of show business in the Hollywood Wax Museum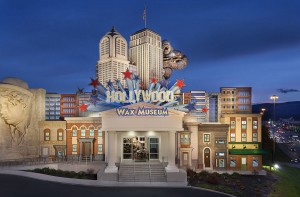 If you find yourself in the Smoky Mountain community in Pigeon Forge don't lose an opportunity to visit the Hollywood Wax Museum, which has become a landmark of this place. The museum is the only one in the country, which is devoted to celebrity figures only. Hollywood Museum has two stores full of famous people figures. This is a perfect place to feel closer to the world of show business. The museum offers a lot of fun things to do, for example, fun photo opportunities for the visitors.
Your favorite movie and TV stars are here for you. You will be able to see a lot of celebrities, among them there are such as:
Bradley Cooper,
Anne Hathaway,
Brad Pitt,
Natalie Portman,
Elvis Presley,
Marilyn Monroe,
Charlie Chaplin,
John Wayne.
You can not only find out more about the lives of your favorite celebrities but also pose for photos with them.
Interesting: You can meet both current celebrities as well as those who have already left this world but remained in people's heart forever.
Back
Thing to do number 7: Go to The Old Mill Square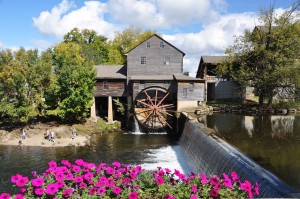 Want to do shopping and eat something tasty? Then go to the Old Mill Avenue where you are going to find a large complex of restaurants and shops- The Old Mill Square. There is a a water-powered gristmill that was built in 1836 on the banks of the Pigeon River. For the long period of time the mill was used for grinding flour and meal. During the Civil War the mill became the home for wounded soldiers.
Nowadays the mill is still working. It is included in the list of the U.S. National Register of Historic Places. The Old Mill Square has a lot of places you can visit:
the Old Mill General Store,
two restaurants,
a pottery shop,
a jewelry shop, and much more.
Interesting: Use unique chance to get some souvenir made in front of you in one of craft shops here.
Back
Thing to do number 8: Have a delicious dinner while watching show in the Dolly Parton's Dixie Stampede Dinner Attraction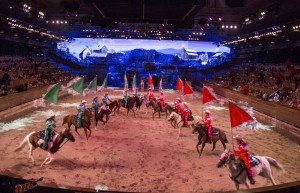 Dolly Parton's Dixie Stampede Dinner Attraction is a dinner theater, which is situated on Parkway in Pigeon Forge, one of two locations. It appeared here in 1988 at the entrance to Dollywood.
This is a perfect place to treat yourself to delicious food and watch breathtaking shows. After show all visitors are welcome to have a dinner at the arena.
What makes this place so popular?
Food ration, which includes chicken, pork, potatoes, biscuits, apple turnovers, and beverages.
Wild West revue show, which consists of more than 30 horses and other animals.
If you are looking for the "bread and circuses" this is the best place ever in Pigeon Forge.
Interesting: The show begins in the Carriage Room with a performance of bluegrass and country music by a live band.
Back
Thing to do number 9: Enjoy free wine tastings in the Mountain Valley Winery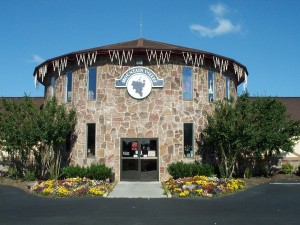 The Mountain Valley Winery is situated on Parkway. French and German wines as well as sweet fruit wines like muscadine are produced here. If you are a wine lover, you can taste such wines as:
cabernet sauvignon,
chardonnay,
merlot,
semi sweet wines like Mountain Valley White and Mountain Valley Blush,
sweet wines such as Blackberry, Collier Reserve, Mountain Valley Red, Pink, Rhubarb, Winterfest Red, and more.
The winery was founded in 1991 in the centre of the Smoky Mountains. You will be glad to know that here special events are held. There is a wine club and a wine trail.
Interesting: The tours are available on the regular basis, including free wine tastings.
Back
Thing to do number 10: Get breathtaking experience choosing one of the Smoky Mountain Ziplines and Canopy Tours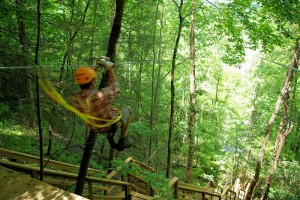 Flying through the trees at 25 miles per hour is a breathtaking experience. If you are looking for adventures, then don't miss a chance to visit an adventure park on Mill Creek Road. Here you will find a lot of tours both for beginners and experienced riders as an advanced level zip line is also available here.
Why to choose the Smoky Mountain Ziplines and Canopy tours one of your travel destinations?
High-qualified instructors will help you get a lot of impressions from your tours;
Thrilling canopy tours
After the zip line tour you can go to the special building where all parties and different celebrations take place.
If you have never had such experience, you will be able to get professional instruction from tour guides. Your tour will start at slow speed and low height first. Then the lines become higher gradually.
Interesting: Side-by-side zip lines 800 feet long and 100 feet high are what you can enjoy if take the advanced tour.
Video