The following two tabs change content below.

Veronika
I'm Veronica Brown, I've been traveling for more than 10 years, traveled to more than 100 countries of the world, sharing with you the most useful and important information on the pages 43places.com.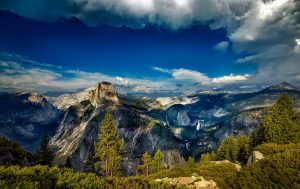 The most interesting thing in the USA is not at all crowded and often standard cities and streets familiar from films. The most vivid impressions on their guests are made precisely by natural sights. It is because of the national parks is to get a difficult visa and fly across the ocean. In total in the USA, there are a huge number of national parks, but only 14 of them are included in the UNESCO World Heritage List. The Big Three: the Grand Canyon, Yosemite and Yellowstone are the best of them. This article is about the incredible Yosemite Park, about its most interesting and hidden corners.

Yosemite is located in the west of the country in California. Giant cliffs, pristine rivers, grandiose waterfalls – the enchanting beauty of pristine nature in its almost untouched form. A huge number of birds, deer, coyotes and even bears. At the same time, ideal roads, good tourist infrastructure. And as a result – about three million people visit Yosemite Park every year. There are a lot of mountains and passes in Yosemite, the height difference here is from 600 meters above sea level to 4000! Therefore, you should carefully plan your trip to this national park, look at the seasonality of a particular attraction. Let's discuss what great things you can do in Yosemite.
Contents
Thing to do number 1: Go to the Mariposa Grove
In total, about 500 Redwoods are here, many of which are nominal, i.e. earned a proper name for any merit. These include:
the Giant Grizzly, more than 60 meters high,
and the Fallen Monarch that collapsed 300 years ago without any signs of rotting,
the California Tunnel, one of the few living trees with a tunnel cut through,
and Colombia (tall, just under 90 meters).
Interesting: For several years the grove of Mariposa has been closed for the reconstruction of the territory. Now, it is available for visits.
Thing to do number 2: Don't Miss a Great Tunnel View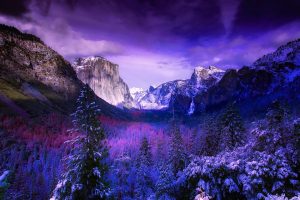 In any case, you will not be able to miss this viewing platform. At the entrance to the valley, immediately after the tunnel, you will have a stunningly beautiful panoramic view of the Yosemite Valley. The forest is like a carpet gently covering the valley and mountain giants in the background. Get ready to stop in advance, after the tunnel you will need to immediately call in the parking lot.
Tips for visitors:
In the high season, especially during the day, there are often traffic jams here, everyone is trying to stop, piling up cars and buses. The best time to visit is an hour and a half before sunset.
The Pohono Trail 21 km one way track starts here. It passes through the popular view points and ends at Glacier Point. The track is hard, so you should count on your strength.
Interesting: To simplify the hike, you can start it from Glacier Point and move in the opposite direction from top to bottom.
Thing to do number 3: Go to the Glacier Point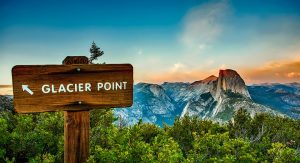 Generally, Glacier Point is a separate area, but it is located directly above the Yosemite Valley. Glacier Point is considered to be the number 1 in the whole Yosemite Park. This is an observation deck with a 270-degree view of the valley and majestic cliffs, half Dom is without a doubt a gem. Breathtaking views! Everything is incredibly beautiful, you can spend a few hours here, just contemplating the surroundings.
You can come here by car and see a park directly in front of the viewing point, then just a few minutes up and incredible views are at your fingertips.
There are also several tracks, the most famous of which are:
4 Miles Trail 8 km one way long
and Panorama Trail 13.5 km one way.
Both of these tracks end in Yosemite Valley. Remember that going down is significantly easier than climbing up.
Interesting:  You can inspect Glacier Point all day long. But you have to remember that early in the morning and late in the evening before sunset, there are fewer people here, as the excursion buses leave.
Thing to do number 4: Enjoy the Panorama from Sentinel Dome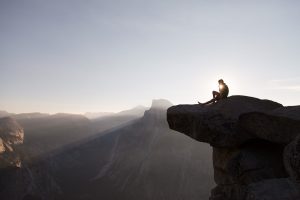 This is also a very popular point among tourists and travelers. It is located on a huge rock and the best views from the very top of this hemisphere.  There is no parking and driving will not work.
Tips for tourists:
It is worth going either from Glacier Point or from parking on the Glacier Point Road (in this case, your way to the observation deck will lie through a wonderful forest).
The views here are gorgeous, but they in varying degrees repeat the views from Glacier Point. Therefore, if you have limited time, you can skip this point.
Interesting: From the very top, you are provided with a magnificent panorama of 360 degrees.
Thing to do number 5: Travel to the Taft Point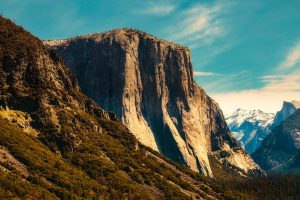 Traveling in Yosemite Park, this place is often missed by its route, but in vain. Do you wonder why is it worth your attention?
Excellent not tense track, a stunning fairy-tale forest full of squirrels and big black ravens, at the end of the cliff path, wonderful views and the famous ledge, where everyone climbs to snatch a photo over a cliff. The height here is somehow especially felt, dizzy abyss right at your feet!
People here, as a rule, are few and no one will prevent you from meditating while enjoying the scenery.
There are no restrictions and prohibitions, you can walk along the very edge of the cliff. But be careful, on the road, there are deep cracks on the rocks, carefully follow the relief.
Interesting: If you have enough time, you can combine Sentinel and Taft into one track. It should be started from the Sentinel Dome Parking on the Glacier Point Road, then go to Sentinel, then Taft, and return to the parking. And if time is limited, then put Taft Point in priority.
Thing to do number 6: Look at the Half Dome
This huge rock in the shape of an irregular hemisphere is the hallmark of Yosemite Park. It is depicted in numerous photographs and postcards. This is what you will observe when you are at Glacier Point and the Sentinel Dome. But rare tourists see Half Dome up close. Some useful things for you to know before visiting this attraction:
There is no road and to get to this attraction you must go to the track.
Near Half Dome is just a huge mountain and there's no point in going to it. The idea is that you can climb the Half Dome.
Unlike most of the attractions of the park, it is not easy to climb the Half Dome. This can only be done from late May to early October.
But only 300 people per day are allowed onto the rock at a special permite.
To get permit, you need to win the online lottery. Lottery fee – 4.5 USD for participating in the draw and another 8 USD in case of your victory.
For a full track from the Half Dome Trail valley with a length of 12 km in one direction, it is worth highlighting a full day.
Interesting: It is worth considering that the last one and a half hundred meters you have to go at an angle of 45-55 degrees holding the metal braided ropes. Take into account whether you are strong enough your and do not forget to take plenty of water.
Thing to do number 7: Enjoy El Capitan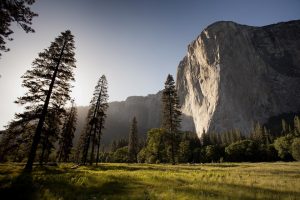 This is another park card. A huge granite rock rises above the valley of Yosemite at a kilometer height like a piece of cake cut off by a giant knife.  Also, following the climbers, the slopes of the Captain periodically try out extreme baseballs for strength.
El Capitan is monumentally beautiful. You cannot ignore its mighty wreck while in the Yosemite Valley. But to go to the track on this rock is not particularly interesting. It is necessary to bypass it and start driving through the Tamarack Flat camping site.
Ahead of the way is 24 kilometers, while in some areas, you will have to remember climbing skills. On top, the views are wonderful but they are much inferior to Glacier Point. And is it worth it? Better enjoy El Capitan from the bottom of the valley.
Interesting: Its smooth slope is very much loved by climbers, and in 2015, a route of difficulty 9A (one of the most difficult) two climbers paved here by sheer smooth rock, staying in the air for 19 days without getting up to the ground.
Thing to do number 8: Go to Vernal Falls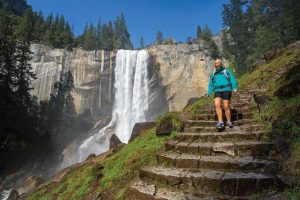 The path to the Vernan Falls is through the not very difficult Mist trail track. This is a very picturesque route, along the road, in addition to views of the surrounding rocks, you will come across various small animals: lizards, squirrels, hares. Squirrels are arrogant and are not afraid of anything at all; they pose perfectly against the beauties of Yosemite Park. In high season, the waterfall is powerful, everything is wet and slippery.
In the low season, you can approach it almost right next to it and sunbathe if not cold. If you want, you can climb to the observation deck up to the waterfall, but still the best views of it from below.
On sunny days, get ready to enjoy the rainbow – everywhere splashes and water suspension. Interesting: Before the start of the track, Mist Trail can be reached by car or by local shuttle-bass. Travel time on the track: 1 – 1.5 hours walking one way.
Thing to do number 9: Have a Look at Yosemite Falls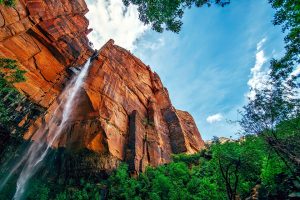 This is the highest cascade of waterfalls in Yosemite Park. Divided into three parts, it even enters the top 20 waterfalls of our planet, the water here falls from a height of more than 700 meters. Alas, overflowing waterfalls in late spring and early summer, in August and September, waterfalls almost dry out.
To the Lower Waterfall, it is easy to get to. Begin your journey from Northside Drive. The track is called Lower Yosemite Fall Trail.
The length of the track is less than a kilometer in one direction; along it you will quickly reach the observation deck. And then, if you wish, you will have to jump a little over huge boulders and get closer to the Lower Falls. But in general, there is nothing impossible. You can go to the full track Yosemite Falls Trail and climb the waterfalls.
It is significantly more difficult than the Lower Yosemite Fall Trail and the Mist Trail as the road starts not far from Camp 4 and lasts about 6 km one way. At the top are great views of the valley and the waterfalls. This track is worth devoting a full day, no less.
Interesting: If you choose between Yosemite Falls and Vernan Fall, then you should make a choice in the direction of the highest waterfalls, but only if they are deep, in May – half of July. In the fall, for example, it does not make sense to go there, dedicate your day to Vernan Fall.
Thing to do number 10: Have a Look at the Ghost City-Bodie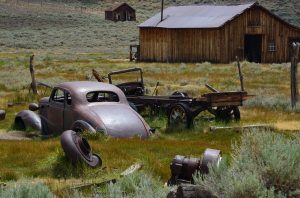 The city of Bodie was founded in the middle of the XIX century, close to the border of the states of California and Nevada. Someone William Bodie found a gold mine here. Work began to boil over and after thirty years the city had more than 10 thousand inhabitants. The infrastructure was created, houses were built, the railway was built. But then gold prices began to fall, mining degenerated, the city withered. Gold was stopped here in 1960 and the city became extinct, not a single resident remained in it. But the dry climate perfectly preserved many buildings. And now Bodie is the best preserved ghost town in the United States.
Today, it is a historical park. About 200 buildings have been preserved in their original state, including:
church,
school,
gas station,
shops, etc.
A very strange sight when you walk through a dead city, look into empty windows and see a trading shop with a two-centimeter layer of dust on shelves and goods, or an old stage coach with rotten springs left alone in a barn, or a thoroughly rusted ancient car. Since no one is engaged in restoration here, at home they slowly begin to sink. And it adds even more realism, the city is dying right before your eyes.
The city of Bodie is located north of Mono, here you will pass the 50 km path from the lake in 1.5 hours, with the last 10 km you will have to go along a dirt road. Do not slip through the turn to 270 highway on Body Road, it is not very noticeable, but rather use the navigator.
Interesting: You have to give 8 USD for the right to see the dead city ghost Bodie.
Almost as in any national park of the USA, in Yosemite, there is a large number of hotels, lodges and campgrounds. They are all very different and scattered around the huge park. That's just one thing unites them – living in Yosemite cannot be called cheap. Take it simply as a fee for visiting the national park, an additional fee for the right to see unique nature wonders! It is worth it!
Video