The following two tabs change content below.

Veronika
I'm Veronica Brown, I've been traveling for more than 10 years, traveled to more than 100 countries of the world, sharing with you the most useful and important information on the pages 43places.com.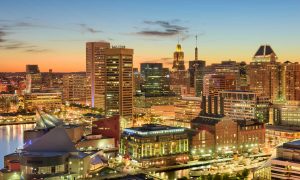 The history of Baltimore begins in 1729. Currently, about 650 thousand inhabitants live in it, and together with the suburbs, the population of Baltimore is more than 2.5 million people. In recent decades, there has been a tendency towards a decrease in the number of inhabitants, if at present the number of inhabitants does not reach one million, then during the Second World War the population was about one million people.

What is remarkable about the city of Baltimore for vacationers and foreign tourists? There really is something to see here, anyone can organize a cultural program in accordance with their preferences. In Baltimore, you can wander around the shops, dine in restaurants, visit nightclubs.

Contents
Thing to do number 1: Visit Fort McHenry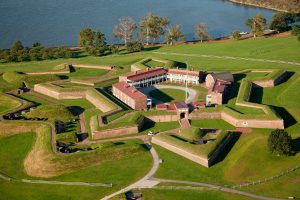 Fort McHenry is one of Baltimore's main historical symbols. It was built to protect the city in 1798. A lot of amazing historical events and facts are connected with this fort, in 1814, it was thanks to its impregnability that Baltimore managed to resist the onslaught of the British. Fort McHenry's visit is advisable. This is not just a fort. Fortifications of Fort McHenry were unusual. Gun batteries are hidden behind gentle ramparts. From the gulf side, they are not visible at all – like mounds covered with grass. In their ring are houses of fortification defenders and an ammunition depot. In the center of the fort is a mast with a star-striped national flag. It was under the influence of this fort that the poem Star-Striped Flag was written. Benefits you will enjoy are:
A good location for walks,
beautiful views of the harbor,
exhibitions.
Interesting: The fortification is now a monument and a museum in a pretty park.
Back
Thing to do number 2: Enjoy Adventures in the Port Discovery Children's Museum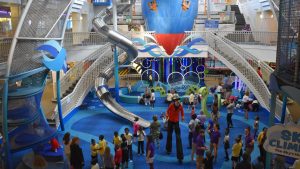 Adventure lovers will definitely love the Port Discovery Children's Museum, which can hardly be called an ordinary museum in the usual sense of the word. This is a real center of entertainment for young visitors, where they can learn a lot of interesting things about various scientific facts and achievements in a playful way.
The museum has a hall with a small power station, where kids can pedal on special bicycles and watch how beautiful illuminations from the energy generated by them light up.
The museum has interesting obstacle courses and rope mazes.
Interesting: There is a special game room prepared for the smallest visitors.
Back
Thing to do number 3: Visit the National Aquarium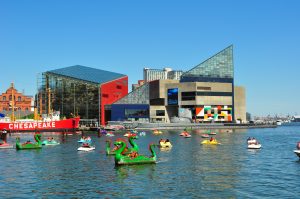 Situated in the core of the Inner Harbor in Baltimore, the National Aquarium is one of the biggest vacation spots in the territory of Maryland. It highlights three structures and a living assortment that incorporates in excess of 700 types of fish, flying creatures, creatures of land and water, reptiles, and warm blooded creatures. Among the most famous shows are:
the Amazon Coral Reef,
the Australian Wild Extremes,
Jellies Invasion,
Dolphin Discovery,
Tropical Rainforest,
and Shark Alley.
Here, in huge aquariums, you can see sharks, colorful tropical fish, stingrays and seahorses, as well as many other exotic inhabitants of the deep sea. Many visitors to the aquarium seek to come to the opening in order to observe how sharks are fed. The entertainment center also has a beautiful dolphinarium where you can watch dolphin shows and even swim with them in the same pool.
Interesting: There is a 4-D Immersion Theater and a Children's Discovery Gallery. The Aquarium is an "absolute necessity see" goal, incredible for all ages, and among the best activities in Baltimore. To stay away from swarms, you need to visit this place early or late in the day on a weekday.
Back
Thing to do number 4: Investigate the Maryland Science Center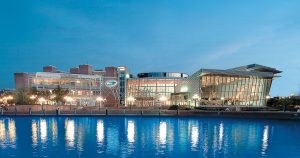 Tourists who plan to visit Baltimore with their children should definitely check out the Maryland Science Center. A tour of it promises to be informative for all family members, in this center there is an incredibly interesting Dinosaur Museum, as well as a planetarium. They conduct excursions for children of different ages, during which they can find out what our planet looked like millions of years ago, and what creatures inhabited it.
Situated beside the Light Street Pavilion in the core of the Inner Harbor, the Maryland Science Center rouses kids and grown-ups to acknowledge science with many intuitive shows, introductions on the planet well known Davis Planetarium, overwhelming motion pictures in the five-story IMAX Theater, and several hands-on programs. Guests can:
contact a 100 million-year-old cryolophosaurus skull found in Antarctica,
stroll through a monster labyrinth to perceive how proteins are made,
play music on a stringless laser harp,
take a stab at a space flight suit and get very close with occupants of the Chesapeake Bay, for example, live turtles, fish, and crabs.
Interesting: The Maryland Science Center offers an assortment of projects for all ages and constantly offers new things to see and do.
Back
Thing to do number 5: Visit Baltimore's Art Museums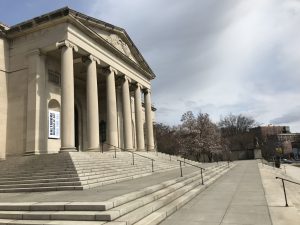 Baltimore is home to three galleries that present amazing show-stoppers and offer an assortment of projects and occasions. The Walters Art Gallery incorporates:
old workmanship,
medieval craftsmanship and compositions,
brightening objects,
Asian workmanship,
and Old Master and nineteenth century artistic creations.
The incorporates old craftsmanship, medieval workmanship and compositions, brightening objects, Asian workmanship and Old Master and nineteenth century canvases. The American Visionary Arts Museum is a national gallery and instruction place for imaginative, instinctive, and self-coached creativity.
Interesting: The Baltimore Museum of Art includes a globally prestigious assortment of nineteenth century, present day, and contemporary workmanship.
Back
Thing to do number 6: Go to a Baseball Game at Oriole Park at Camden Yards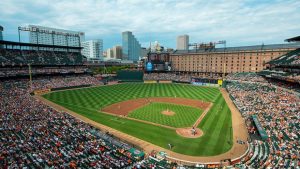 Baseball fans appreciate viewing the Baltimore Orioles contend in Major League games at the lovely arena at Camden Yards.
The one-time railroad focus is found only west of the Inner Harbor and just 2 squares from the origination of baseball's most unbelievable legend, George Herman "Angel" Ruth.
Oriole Park is best in class, yet one of a kind, conventional and close in plan.
Interesting: The Baltimore Orioles are a dearest group with a great atmosphere.
Back
Thing to do number 7: Look at the Ships in the Harbor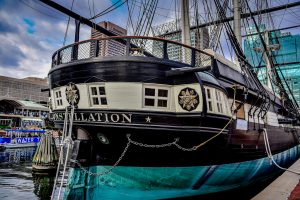 Children of school age should definitely take a walk along the historic harbor of Baltimore, there are many old ships. Among them are warships and submarines; this is a real open-air museum. Visitors to the harbor will have the opportunity to board some historic ships and see how they are equipped, as well as learn the unique history of each ship. In the warmer months, the harbor has plenty of fun for vacationers, they can ride a catamaran or boat, and then visit the nearby cafes. Situated at the Baltimore Inner Harbor inside simple strolling separation of one another, four notable boats and a beacon recount to the narratives of life adrift from the mid-nineteenth century to the mid-1980s. The USS Constellation filled in as the leader of the African Squadron, a unit that smothered the Trans-Atlantic slave exchange off the bank of West Africa, and was dynamic during the American Civil War.
Lightship Chesapeake was finished in 1930 and was among the most current and competent ships being used with the US Lighthouse Service and the USS Torsk was a World War II submarine.
USCGC Taney is a United States Coast Guard High Endurance Cutter, outstanding as the last ship gliding that battled in the assault on Pearl Harbor.
Interesting: The Seven Foot Knoll Lighthouse was worked in 1855 and is the most established screw-heap beacon in Maryland. Hands-on visits, exceptional occasions, live gun firings, and instructive projects are accessible for a charge.
Back
Thing to do number 8:  Go to Little Italy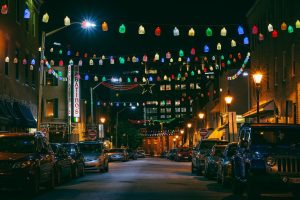 One of the most attractive areas for walking in the city is the Italian Quarter; it is located near the Inner Harbor. This is real Italy in miniature, here you can find shops of famous Italian brands, as well as a huge selection of restaurants and cafes where you can try the most popular Italian dishes. Baltimore's Little Italy is home to in excess of twelve comfortable, family-possessed eateries found only a couple of squares from the Inner Harbor.
The true Italian neighborhood draws guests with its fragrance of home-style Italian cooking from customary, present day, easygoing and upscale eateries.
Vaccaro's Italian Pastry Shop is a nearby most loved for bona fide Italian treats.
Interesting: Beside the nourishment, Little Italy offers a schedule of yearly occasions, from bocce ball and Italian celebrations for St. Antony and St. Gabriel to an outdoors film throughout the late spring.
Back
Thing to do number 9: Visit the Baltimore and Ohio Railroad Museum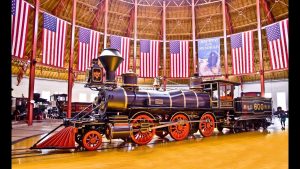 One of the city's most interesting museums for visiting with children is considered Baltimore and Ohio Railroad. This museum was opened in the building of the old railway station, its collection includes old trains, absolutely everyone can climb into it. The museum is very beautifully decorated, it is decorated with figures of beloved fairy tale characters, which is why children like it. The museum also has an interesting indoor exhibition where you can see old carriages and carts, as well as elements of railway equipment. This museum will be interesting to visit even with the youngest children, they will be able to ride a children's train and try out various attractions in action. The Baltimore and Ohio Railroad Museum, a subsidiary of the Smithsonian Institution, is situated about 1.5 miles west of the Inner Harbor and is home to the most established, most extensive assortment of railroad relics in the Western Hemisphere. The gallery tells about:
the historical backdrop of American railroading;
its effect on American culture and economy.
Interesting: The 40-section of land site is viewed as the origin of American Railroading and incorporates the 1851 Mt. Clare Station, the 1884 Baldwin Roundhouse, and first mile of business railroad track in America.
Back
Thing to do number 10:  Go to Fells Point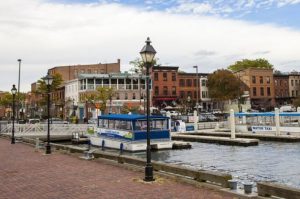 Those who love exciting evening walks will be interested in walking around the Falls Point area. It attracts vacationers with a variety of art galleries, which often host interesting cultural events. Here you can visit photo and art exhibitions of famous young artists and photographers, and in some galleries you can even purchase your favorite works. In addition to galleries, there are several dozens of popular cafes and bars, so there will also be no shortage of places for evening relaxation. The memorable waterfront network, with its 18th‑ and 19th‑century homes and customer facing facades are one of the most intriguing neighborhoods to investigate with regards to Baltimore.
Stroll along the lanes with names like Shakespeare and Fleet, or Thames Street and Broadway. Fells Point is an awesome spot to eat and shop.
Chesapeake Bay fish is at its best here.
Eating alternatives run from nearby bars to upscale fancy cafés.
Many beautiful historic buildings can be seen while walking around the Fells Point area. Looking at it today, it's hard to imagine that before this quarter was considered one of the most dysfunctional and troubled in the city. There were numerous entertainment venues, the main visitors of which were sailors. Today, here you can see carefully restored historical buildings, within the walls of which hide prestigious shops and restaurants. Many tourists come to this area specifically to take pictures against the backdrop of spectacular buildings built of red brick.
Interesting: It is a 15-minute walk or a 10-minute water taxi ride from the Inner Harbor.
Back
Thing to do number 11: Go Shopping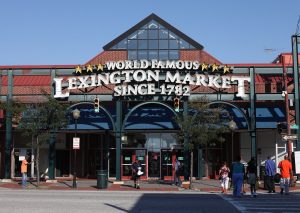 In Baltimore, there is simply a huge selection of places for shopping, one of the largest in the city is the Arundel Mills shopping center. Within its walls there are about 200 stores where you can buy clothes and shoes for every taste, as well as goods for children, perfumes and interesting souvenirs. This shopping center is equipped with comfortable relaxation areas, and it often hosts interesting entertainment events for visitors. It is difficult to imagine a category of goods that could not be purchased in this shopping center. It sells everything from electronics and clothing, to jewelry and exclusive souvenirs.
For budget-constrained tourists, the A People United Mall is more popular. It offers customers products made in India and African countries, which is why, they differ at the most affordable price. The quality of goods from this shopping center must be treated with great attention. It is not difficult for experienced shopaholics to find good things here at a reasonable price. This mall will surely enjoy shopping for those who love ethnic-style clothing, and they also sell jewelry at prices much lower than in other Baltimore stores.
One of the most beautiful shopping centers in the city is not without reason considered Harborplace & the Gallery. Among the fountains and exotic plants, this shopping center houses branded clothing stores and jewelry stores, and there is also a very nice restaurant courtyard. Here you can take a walk in search of a new evening dress, brand watches and accessories, expensive cosmetics and perfumes.
Interesting: The shopping center is combined in a single complex with a popular hotel, so a significant part of its customers are tourists.
A huge number of hotels offer their customers very comfortable living conditions, and cultural lovers can visit the sights of Baltimore – monuments, statues, national parks, the inner harbor of Baltimore (Inner Harbor), the Washington Monument and many others. Visiting the city of Baltimore, any tourist will receive a lot of positive emotions, will be amazed by the beauty of local attractions and will definitely want to visit this beautiful and interesting place on the planet again.